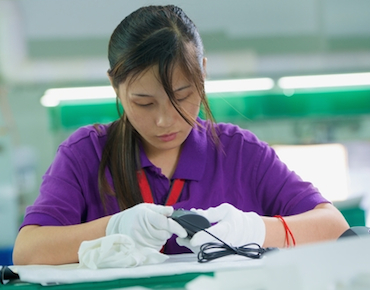 With a weak official purchasing managers index (PMI) reading in November, China is likely to intensify easing efforts in December to accelerate growth momentum, says a research report by the Australia and New Zealand Banking Group Limited (ANZ).
China's official PMI, the bellwether of large industrial firms, declined further to 50.3 in November, pointing to a weak growth momentum. The HSBC flash PMI, representing a group of private-sector and small and medium enterprises, also edged down by 0.4 percentage point to 50.0 in November.
The decline of official PMI is across the board. The output sub-index dropped by 0.6 percentage point to 52.5, and the new order sub-index fell by 0.7 percentage point to 50.9, pointing to a weak industrial production growth in November.
The steel mills in Hebei province were forced to shut down during the APEC submit, which should have dragged down the production growth. The export order sub-index also dropped sharply by 1.5 percentage points, suggesting that exports are unlikely to maintain a double-digit growth in November. Meanwhile, input price sub-index fell to the lowest level since March, indicating that the producers price index (PPI) inflation could trend lower.
The People's Bank of China's rate cut appears to fail to improve the sentiment, and there have been little improvement in activity indicators in November. The crude steel output registered a slowest growth since 2013, and the electricity generation remained negative in early November according to high-frequency data. If the downward trend in the manufacturing sector continues, China's fourth quarter growth is unlikely to reach 7.5%.
In order to maintain the whole year growth at around 7.5%, China needs to intensify easing efforts in December. The central bank is likely to add more liquidity into the market and to encourage commercial banks to extend more credits to the real economy.
In addition, seasonal pattern suggests that China's fiscal spending usually surges at the end of the year, which will not only improve the inter-bank market liquidity conditions, but also somewhat lift up the demand for manufacturing goods.