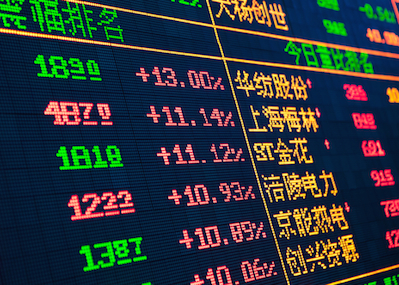 China's recent stock market mania decouples from its weakening economic fundamentals. There are growing signs showing the stock market risk is on the rise, and investors should be cautious, says a research report by Goldman Sachs Gao Hua.
China's November industrial production softened and missed market expectation, reflecting softer domestic demand and disruptions from the temporary factory shutdowns during the APEC meeting in early November.
Headline fixed asset investment decelerated further, led by slower property and infrastructure investment. The uptick in retail sales is probably temporary due to the surge in online shopping on Single's Day on November 11th. Financing demand of the real economy remained weak despite the loosening in credit condition.
The Central Economic Work Conference (CEWC) concluded on December 11th put "maintaining stable growth" as the first task for 2015, and made subtle changes in monetary and fiscal policy tone by calling for "more forceful" proactive fiscal policy, and a prudent but "more flexible" monetary policy.
Goldman Sachs Gao Hua says it believes policies will be loosened further through a widening in fiscal deficit and further monetary easing, including by cutting interest rate and the bank reserve requirement ratio.
Next monetary loosening may take place sometime between the fourth quarter data release in January and the Chinese new year holiday in February, it predicts.
Such a policy mix could exert a depreciation pressure on the currency, and the central bank's intervention to defend the currency could neutralize the effect of policy loosening. Weak economic fundamentals, recent surge of stock prices, expectations of further policy easing would increase volatility in China's capital and currency markets in the near term.
China's stock market daily turnover surged to over RMB1 trillion recently, or 8% of free floating market cap, a new record high. Margin trading reached 17% of daily turnover, and 27% of the turnover of the stocks available for margin trading, while this ratio for Taiwan peaked at 28% in the run up to the 2000 IT bubble.
Margin trading balance reached 9.7% of market cap, compared to Taiwan's peak of 7.8% during the IT bubble, and the U.S. peak of 3.4% in 2008. Moreover, foreign investors pulled cash from China funds even as the market continued to rally, evidenced by recent China equity funds outflow.
The decoupling of the stock market from economic fundamentals is unsustainable, but may continue for a while, forecasts the bank, as the effect of the recent interest rate cut could encourage risk taking in the stock market when there is little investment opportunity in the real economy.