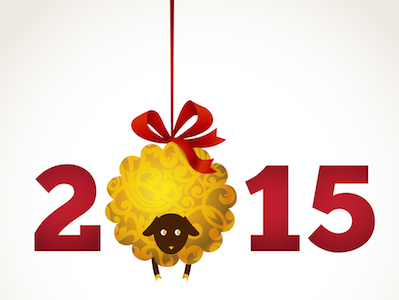 The author is Standard Chartered Global Research

2014 may have been a year of slower economic growth, but it was also a year of positive progress on reforms.
The slowdown in GDP growth to 7.3% in the third quarter from 7.7% in the fourth quarter in 2013 was partly policy-driven, reflecting Beijing's push to reduce excessive debt growth and industrial overcapacity and tackle environmental degradation.
Reforms remain in focus. In the financial sector, the authorities have widened the RMB's trading band, lifted the deposit rate ceiling to 1.2 times from 1.1 times, simplified cross-border capital flows via the Shanghai-Hong Kong Stock Connect program and the pan-China RMB sweeping scheme, and introduced a deposit insurance clause.
Rural reforms allow farmers to earn more revenue from rural land leasing, and encourage farmers to migrate to small to medium-sized cities. The revised Budget Law allows provincial governments to issue municipal bonds to fund economic development, instead of relying on hidden debt for funding. The rationalization of government regulations also seems to have made it easier to start a business.
Looking ahead to 2015, we outline 10 key points to watch for. We expect GDP growth to moderate to 7.1% in 2015 from an expected 7.3% in 2014.
Achieving this will not be easy amid the rising challenges of a weakening labor market, dis-inflationary pressures and relatively high real lending rates.
We expect one more deposit rate cut of 25 basis points by the People's Bank of China (PBoC) in the first quarter of 2015 to support the recovery, following an initial cut in the fourth quarter of 2014.
1. Actual economic growth is probably slower than the official numbers suggest. According to the "Keqiang Index", growth in electricity, cement and steel product production, considered more reliable indicators of industrial production and fixed asset investment, have fallen by an average of 8 percentage points in 2014, much more than the 3 percentage points slowdown in official industrial production and fixed asset investment growth. The gap between this index and the official data continues to widen.
2. We forecast that GDP growth will ease to 7.1% in 2015 from an expected 7.3% in 2014. Beijing has signaled that it is willing to tolerate slower short-term growth as it pursues long-term reforms and sustainable growth.
To achieve this, China needs to implement more decisive supply-side economic reforms to unlock its growth potential. In our view, this should include plans to unify the country's fragmented social security system to enhance labor mobility and productivity growth; downsize state-owned enterprises and open them up to market competition; and further streamline government regulations to reinvigorate entrepreneurship and innovation.
We have already seen some progress on facilitating access to capital markets for small and medium enterprises (SMEs). By end-2014, we should know more about China's 13th Five Year Plan, which sets key social and economic reforms targets for 2016 to 2020.
3. The labor market is showing more signs of stress. While the manufacturing sector has been losing jobs for three years, until recently growth in services jobs was enough to offset this.
This has now changed. According to the employment sub-index of the official non-manufacturing PMI, employment in services began to decline in July 2014. More worryingly, our recent discussions with companies suggest that many plan to freeze wages in 2015 as a result of the slowing economy and already-squeezed profit margins.
If the labor market weakens further, we could see a second wave of economic slowdown driven by slowing consumption in early 2015.
4. Dis-inflationary pressures are building and pose a threat to the economy. CPI inflation could slow to about 0.5% by the second quarter of 2015 from 1.6% in October 2014, based on two leading indicators we like: the S&P global agricultural price index and China's consumer spending sentiment index.