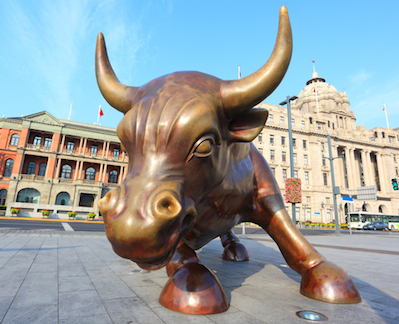 Can China's stock market rally continue in 2015? Nomura believes it will, and the bull market may last much longer than most people expect, says the bank's researchers in a new report.
Noumra expects that by the peak in 2017, the MSCI-China index will see 60% upside from the level at the end of 2014, driven by earnings growth and valuation multiples re-rating to a 10-year average price/book ratio of the index.
Over the next several years, China's structural reforms and economic re-balancing, with macro policy cushioning downside risks, will lead to further consolidation of market share and higher return on equity (ROE) among industry leaders.
They will also improve corporate performance mechanisms and higher ROE among China's state-owned enterprises.
Moreover, capital and financial market reforms should help to improve public shareholder protection in A-shares, thus attracting more allocation of Chinese household assets to equities, argues Nomura.
The bank admits that to see all of these pieces coming together requires some luck and government conviction.
But compared to the period of 2012 to 2014 when many of the policy initiatives were still up in the air or on the drawing board, the next few years have a much better chance to see those policies actually being implemented.