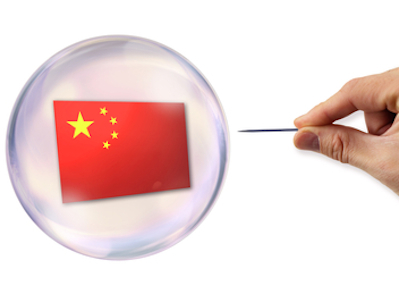 The Chinese market in 2015 is likely to be choppy, as President Xi Jinping's "New Normal" means lower growth, combined with high and rising leverage, this could prove lethal to the financial system, says a research report by BofA Merrill Lynch Global Research.
Even without factoring in a credit crunch, the bank forecasts Hang Seng China Enterprises Index (HSCEI) to decline by about 10% to around 10,800, with the range for the year estimated at 8,700 to 13,500.
Shanghai Stock Exchange Composite Index (SHCOMP), is likely to drop by about 7% to around 3,000, with the year's range set at 2,400 to 3,600.
Investors should focus on three "D" this year to minimize risks: deflation, RMB devaluation, and debt default.
1. Deflation: Given People's Bank of China's (PBoC) desire to de-leverage, we expect real interest rates to stay high. This makes financial assets attractive before bad debts show up at the expenses of hard assets including property and commodities.
Over-capacity in manufacturing means manufacturers in general have little pricing power, hence our preference for services.
Capital expenditure may continue to decline, hurting capital goods, and will likely focus on cost reductions, potentially benefiting logistics, IT and automation-related. Deflation pressure also gives the government more flexibility to pursue utilities & energy prices reforms.
2, RMB Devaluation: China's export is under pressure and tapering is making U.S. dollar, and indirectly RMB, stronger.
The PBoC may need to cut rates to help growth at some point. Given cross-border capital flow is increasingly easy, the government may allow RMB to fluctuate more. This may cause hot money outflow, put pressure on A-shares and property, hurt luxury consumption and companies with high forex debt.
3, Default: The new leadership seems to have largely consolidated its power and there appears to be some renewed desire to address moral hazards, including local government debt.
This should hurt investment-related sectors. More importantly, the shadow banking sector is largely built on implicit guarantees and any meaningful defaults there may jeopardize financial system stability.
BofA Merrill says investors should avoid financials in general. In 2014, non-bank financials was a key buy for the bank. But after the recent run-up and the heightened debt default risk, the bank no longer consider the risk/reward dynamics favorable.