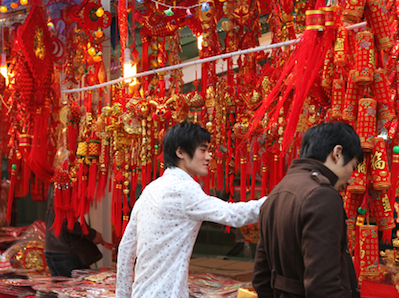 China's monthly macro data in January and February are hard to interpret, as they can be significantly distorted by the different timing of the Lunar New Year. This year is no different, as the holiday will start from February 18, later than January 31 last year. Therefore, it's better to read January to February data together to get a better understanding of the macro picture, according to a research report by BofA Merrill Lynch Global Research.
Growth concerns are on the rise after the official manufacturing purchasing managers index (PMI) unexpectedly declined to 49.8 in January from 50.1 in December. The data shows that the growth momentum was still weak, while falling commodity prices delayed restocking and production in related sectors.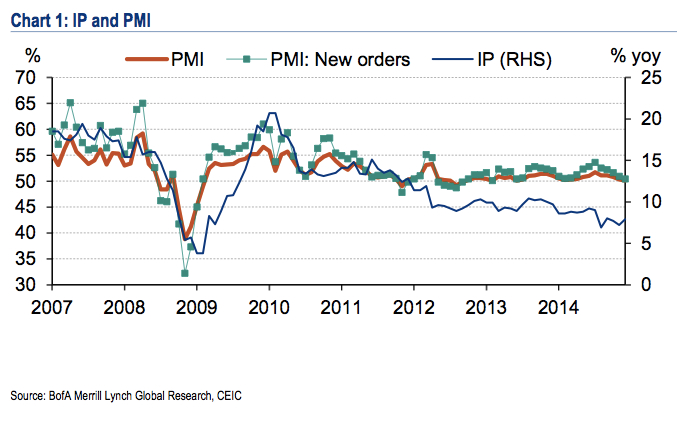 But PMI is not a good growth barometer in January and February, due to the technical difficulty of seasonal adjustment dealing with the Lunar New Year. There is no clear signs of a growth recovery, and no evidence of a slump either. Policy easing will likely continue in the face of weak demand.
Consumer price index (CPI) inflation could drop to 0.9% year-on-year in January from 1.5% in December 2014. The major driver for the large decline was the distortion by the New Year.
In addition, the warmer-than-usual weather contributed to a slower seasonal rise of vegetable prices this January. Note that China had the warmest January in 2015 since 1961. Furthermore, non-food inflation remained low due to the further fall of commodity and raw material prices.
Meanwhile, producers price index (PPI) inflation could decline further to a drop of 4.0% in January from a decline of 3.3% in December. In month-on-month terms, PPI inflation could stay at a decline of 0.6% in January after oil and other industrial materials continued dropping.
January trade data are likely to be distorted as well. There could be some negative effects on trade growth as there were 21 working days in January 2015 versus 22 days in 2014. Headline export growth may moderate to 8.0% year-on-year in January from 9.7% in December. Import growth could drop to a decline of 4.0% in January from a drop of 2.3% in December. January trade surplus may widen to US$55.6 billion from US$49.6 billion in December.
External demand remains robust with solid growth momentum in the U.S. Domestic demand is still on the soft side and falling commodity prices continue to put downward pressure on headline import growth.
China's new loans could rise to RMB1.4 trillion in January from RMB697 billion in December. New loans usually surge in January every year, as banks compete for good projects. But after adjustment for seasonality, new loans could still be relatively on the strong side thanks to continued policy easing.
Moreover, some of the suppressed loan demand in December could be met in January. The People's Bank of China (PBoC) reportedly in mid-December guided banks to slow loan issuance concerning on possible loan boost to local government financing vehicles (LGFVs) in order to catch the local government debt classification deadline.
Headline total social financing (TSF) may jump to RMB2.35 trillion in January from RMB1.69 billion in December, mainly on higher bank loans, bond issuance and non-discounted bankers' acceptance. Year-on-year growth of outstanding loan could edge down to 13.5% in January from 13.6% in December, while that of outstanding TSF could soften to 15.4% from 15.7%.