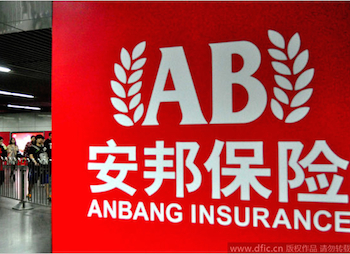 Beijing-based Chinese insurance firm Anbang Insurance Group Co., Ltd. has shown interest in acquiring a controlling stake in South Korea's Tong Yang Life Insurance Co., Ltd. for about 1.1 trillion Korean Won (US$1.01 billion), according to media reports.
Anbang has reportedly signed a memorandum of understanding to acquire the 57.5% stake in the Korean insurer from South Korean private equity firm Vogo Investment Group.
Anbang and Vogo could not be reached to confirm the news.
Vogo Investment Group, established in 2005 and one of the largest independent Korea-dedicated buyout fund with more than US$2 billion of assets under management, acquired an undisclosed amount of stake in Tong Yang in 2006.
Founded in 1989, Tong Yang Life has 19.7 trillion Korean Won in assets as of the third quarter of 2014. The insurer has a return-on-equity of around 10% to 11%, while Korea's big three insurers, Samsung Life, Hanwha Life and Kyobo Life, have an average of 7% return-on-equity.
Anbang has been acquiring overseas assets aggressively during the past year. In December 2014, Dutch insurer Delta Lloyd NV said that it reached an agreement to sell its banking unit Delta Lloyd Bank Belgium to Anbang for €219 million (US$273 million).
In October, Anbang agreed to acquire Belgian insurer Fidea from U.S. private equity firm J.C. Flowers & Co. for an undisclosed amount.
Around the same time, Anbang agreed to purchase the Waldorf Astoria New York hotel for US$1.95 billion from Hilton Worldwide Holdings Inc., owned by U.S. private equity giant the Blackstone Group.