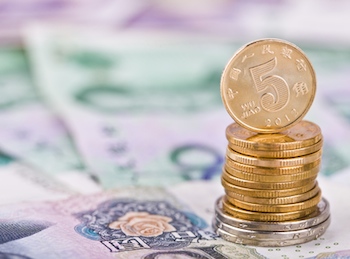 China's January sequential total social financing growth slowed significantly, despite modestly faster growth in new local currency loans, reflecting an unfavorable monetary and fiscal policy stance despite the apparent desire to loosen policy, says a research report by Goldman Sachs/Gaohua senior China macro economist, Song Yu.
New RMB loans stood at RMB1.47 trillion in January, compared to market consensus of RMB1.35 trillion. The number compares with RMB697 billion in December 2014, and RMB1.32 trillion in January, 2014.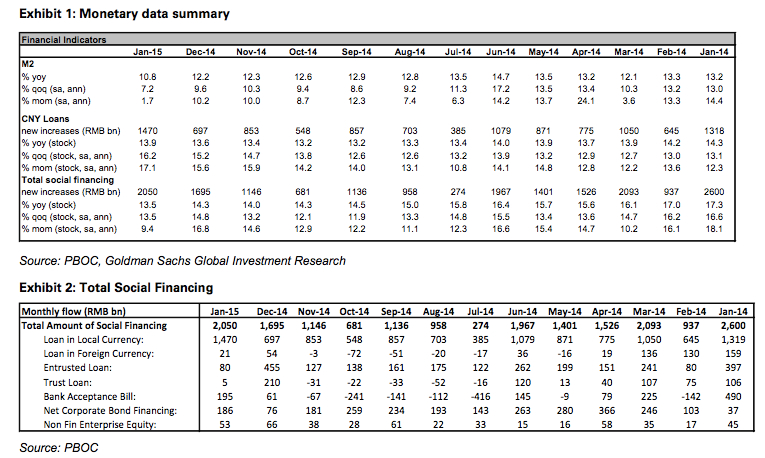 Outstanding total RMB loan grew 13.9% year-on-year in January, compared to last month's 13.6% increase.
For M2, a broad measure of monetary supply, it increased 10.8% year-on-year in January, lower than market consensus of 12.1% and last month's 12.2% growth.
Total social financing stood at RMB2.05 trillion in January; slightly lowr than consensus of RMB2.1 trillion and December's RMB1.7 trillion.
Goldman Sachs/Gaohua estimates the year-on-year growth in total social financing is 13.5 % in January, down from 14.3% in December.
January's weak broad money rowth was due to tight fiscal conditions and likely continued capital outflows.
Non-loan financing channels were generally weak, but trust and entrusted loans were particularly weak, likely reflecting the impacts of tighter regulatory controls as well as lower demand after the year-end deadline for local governments to report local borrowings.
Other possible factors behind the above changes include a lower level of urgency from local governments to support growth early in the year, and further intensification of the anti-corruption campaign.
Given the current combination of macro data, the bank expects the government to lower the benchmark interest rate, including cutting bank reserve requirement ratio (RRR) further, and facilitate modest RMB depreciation.
The next cut to the benchmark interest rate is likely to happen before the end of the quarter with at least another RRR cut in the second quarter, the bank forecasts.
Fiscal policy will likely become more supportive, though the exact timing is hard to pinpoint. Goldman Sachs/Gaohua expects the RMB exchange rate fix to depreciate against the U.S. dollar to 6.20 on a six- month horizon.
The Chinese government will likely utilize other administrative measures aimed at supporting infrastructure investments and the real estate sector as well, says the report.