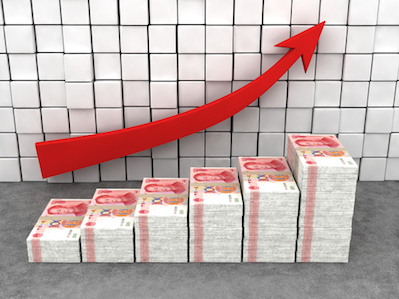 The authors are Alastair Sewell and Li Huang at Fitch Ratings
Since the launch of Alibaba's online investment fund Yu-E Bao in the third quarter of 2013, Yu-E Bao accounts for 80% of Chinese e-commerce money market funds (MMFs), which are funds linked to e-commerce platforms and has become the largest Chinese MMF, representing more than a quarter of the total market.
Retail investments in e-commerce related funds like Yu-E Bao, which have shown higher yields relative to traditional banking products, have accounted for most of the exponential growth of Chinese MMFs.
By the beginning of 2015, total assets of the 231 active MMFs in the market had reached RMB2.2 trillion (US$353 billion), up 500% from the end of the second quarter of 2013, making China the fourth-largest MMF domicile globally, according to ICI as of the end of last year.
Chinese MMFs increased even faster than the money supply (M2) since the second quarter of 2013. The percentage of MMFs assets under management compared to M2 increased to 1.8% as of end-2014, from 0.3% as of end-June 2013. What they effectively did was to take money away from other parts of M2 bank deposits.
Why have these funds grown in stature so quickly?
Among the reasons are the relative ease and convenience of e-commerce MMFs, which have made them wildly popular and an integral part of daily life for average investors.
In addition to higher yields, primarily achieved through extending duration, and investment choice, e-commerce MMFs offer investors convenience. Money placed in e-commerce MMFs can be used for online purchases or even for taxis and credit card payments.
It also provides low investment threshold. Compared to traditional wealth management products offered by banks, which normally require a minimum investment amount from RMB50,000, investors can invest a little as RMB1 in e-commerce MMFs. Not to mention redemption terms are also easy and investor-friendly.
Since e-commerce MMFs are retail-focused, they tend to have a less stable investor base. Also, retail investors tend to be more yield-hungry and may behave in the same manner under certain stressed circumstances.
This poses additional challenges to retail MMF managers. There may be herding behavior leading to periods of mass fund exodus. Meeting redemption in such a scenario may challenge those funds with higher exposures to less liquid securities, larger funds and those with more concentrated investor bases.
Retail MMFs invest heavily in negotiable term deposits and bonds and tend to take longer-dated assets to keep yields competitive. Most of the bonds bear fixed rates and are of longer maturity, which exposes retail MMFs to increased interest-rate volatility.
The combination of longer duration on the asset side, together with typically T+0 settlement on the liability side, means that retail MMFs face a material maturity mismatch.
This means that meeting large outflows could be problematic. Most of the MMFs have overnight loan facilities in place with banks to support their ability to provide T+0 liquidity, albeit at the expense of incurring leverage. In times of market stress, however, these facilities are normally limited to a certain amount.
There were 79 online distributed MMFs with a total amount of RMB1.5 trillion as of year-end 2014, according to Rong360, an e-finance service company in China.
These MMFs were mainly sold via banks, asset managers and e-commerce platforms. But e-commerce platforms have become established leading distribution in terms of asset size, accounting for half of the market.
It is clear that e-commerce MMFs now represent the largest segment of the MMF market in China in terms of total assets, and have substantially shaken up the market. The key question is whether retail investors fully understand the risks.