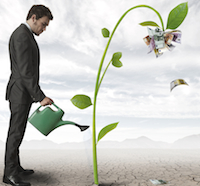 GGV Capital, a venture capital firm focused on investing in technology and consumer companies in the U.S. and China, has launched a follow-on investment vehicle with a fundraising target of US$450 million, according to a securities filing.
The fund, which was named GGV Capital Select LLC and first disclosed in a February filing, will make follow-on investments in existing portfolio companies. It brings the firm's total capital under management to over US$2.65 billion.
In May 2014, GGV Capital raised US$620 million for its fifth venture fund.
Founded in 2000, GGV Capital backed some of the most successful companies in the U.S. and China, including Alibaba Group Holdings, Qunar, Youku-Tudou, YY, and 21Vianet.
The firm, based in Menlo Park, California and Shanghai, has six managing partners including Jixun Foo, Jenny Lee, Hany Nada, Jeff Richards, Glenn Solomon, and Hans Tung.