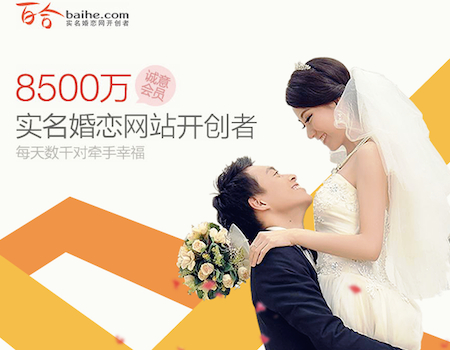 Beijing-based online dating platform Baihe.com has completed RMB1.5 billion (US$242 million) new round of financing, and is planning for an initial public offering on China's domestic stock exchange by the end of this year, according to Chinese media reports.
The investors' identities are not revealed, but reportedly include several publicly listed Chinese companies and a number of private equity and brokerage firms.
Two domestic listed companies, Shengda Mining Company Limited and Dahu Aquaculture Company Limited, disclosed in public filings that they have invested in Baihe.com.
Shengda Mining invested RMB80 million and Dahu Aquaculture injected RMB25 million. As a result, the two firms own 5.13% and 1.6% respectively of the online dating site.
Baihe.com plans to use the proceeds on preparation for a public float on China's domestic stock exchanges, including reversing its VIE (Variable Interest Entity) structure to a corporate framework qualified for domestic listings.
The company previously was rumored to seek an IPO in the U.S., after rival Jiayuan.com International Ltd listed on the NASDAQ in 2011. But Chinese stock markets' higher valuations make a float inside China more appealing than one in the U.S. markets.
Founded in 2005, Baihe.com previously received venure funding from GSR Ventures, Mayfiled, NEA, and Northern Light Ventures.