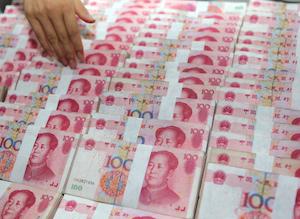 As China's stock market continue its seemingly unstoppable rally, investors should become more cautious and watch out for excessive risks in the market, says a research report by BofA Merrill Lynch Global Research.
The bank has favored Chinese stocks since August 2014 when investor angst about corporate defaults and the property market was high, while the Chinese market was a pariah underweight.
Now BofA Merrill are sounding the alarms that if the market continues its sharp climb, a re-examination of its current neutral weight recommendation for Chinese equities is warranted.
China's corporate debt has gone from US$3.4 trillion in 2007, or 72% of GDP, to US$12.5 trillion in the second quarter of 2014, or 125% of GDP.
This compares with 101% of GDP in Japan, 67% in the U.S., 54% in Germany, and 45% in India.
With such high and rising corporate leverage, using a price/earning ratio is meaningless. Instead, investors should consider enterprise value/EBITDA as a valuation metric.
A-shares median trailing EV/EBITDA excluding financials is 27 times, H-shares are at 11 times median EV/EBITDA, making A-shares the world's highest median EV/EBITDA level.
Chinese A-share equity valuations have come unhinged from monetary conditions, nominal earnings and economic growth. The ratio of median EV/EBITDA for A-shares to nominal GDP growth 4.6 times. A similar metric, P/E-to-growth ratio, was 1.4 times at the October 2007 market peak.
Corporate China's A-share ROEs of 11% have been flattered by rising leverage since 2007. Keeping the assets/equity ratio (or leverage) constant between 2007 and 2014 at 2.2 time, the A-share ROE drops from 18% to a meager 8%.
Simply put, investors in A-share equities are being asked to pay the world's highest EV/EBITDA multiples among the world's lowest debt-adjusted ROEs for countries in MSCI all country index.
As China's nominal GDP growth trends to 3% to 4% from 5.8% now, with policy rates at 5%, high corporate leverage means the interest burden of US$625 billion will exceed incremental GDP expansion of around US$300 billion to US$400 billion.
De-leveraging and sharply lower interest rates make more sense when this happens.
Interest rates should drop 300 basis points in the next few years to 2%, if nominal GDP growth goes to 3% to 4%. The consensus is looking for 30 basis points rate cuts by the second quarter 2016.
If interest rates do go much lower, maintaining the RMB value will require capital controls on outflows, and more open inward capital inflows.
Opening up the country's A-share equity market and potentially US$5.5 trillion bond market to foreign investors is logical for the authorities, says the report.