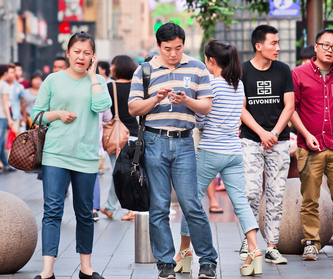 By Nina Xiang
Unlike the dot-com bubble at the turn of the millennium, the current explosion of mobile apps – and the astronomical amount of venture money poured into it – are actually bringing real tangible perks to Chinese consumers.
In the morning, users can book a private car via Didi Kuaidi's mobile app to go to the office while paying substantially less than a taxi using Didi Kuaidi's generous discount offerings.
During the lunch hour, Chinese netizens can try Ele.me's food ordering service, which often comes with cash coupons. If they want to squeeze in a session with a private trainer to tone those muscles, mobile apps like Ran can let them have it for half the cost of a gym.
On weekends, Chinese online consumers enjoy car wash services offered by Yangche Diandian at only RMB1 (US$0.16) in in the convenience of their own backyard or parking lot. And, why clean a home by one's self when a professionally trained maid can come to clean at only RMB25 (US$4) per hour using eJiaJie's app?
If consumers are still undecided on the benefits of mobile apps, they can mull their options while having their nails polished or an oil massage – at their home, and at a 90% discount during promotions – courtesy of mobile app Helijia?
Yes, like in many other technology hotbeds, Chinese consumers are truly living in the best of times. Thousands of mobile app start-ups everyday are furiously burning money – mostly from the pockets of venture capital firms – with eye-popping prices and offerings to attract users.
Taxi-hailing apps Didi Dache and Kuaidi Dache burnt billions of RMB (RMB1 billion equals US$161 million) to attract users before the two companies finally merged in February 2015. A month later, the combined company said that it would spend RMB1 billion more to offer discounts to its private car users and drivers.
It is difficult to determine if Chinese mobile apps have a higher burn rate than their global peers. By one calculation, Didi Dache's average cost of attracting a user was about RMB18 (US$2.92). That compares with Fiksu's cost per loyal user index, which measures costs for all iOS app downloads, at US$2.47 in May.
An easier way is to look at venture capital investments in China, which hit a historical record at US$21.7 billion year-to-date this year, according to data from Preqin. The so-called O2O (online-to-offline) sector, which bridges online and real-world consumption, is the "deal du jour," attracting most of the investments.
Aggregate Venture Capital Investments in China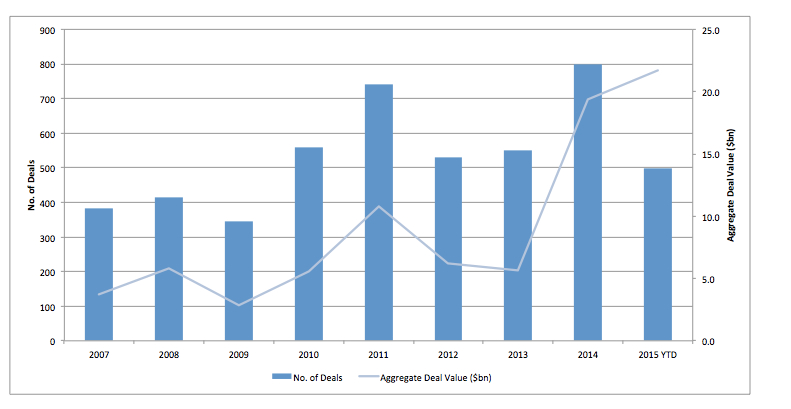 (Source: Preqin. All data are year-to-date as of July 23.)
This means Chinese technology start-ups have to raise money at much higher value and faster accelerations. During the first and second quarter, four of the top 10 venture capital deals globally each quarter were for Chinese companies. The U.S. had four deals making the list during the first quarter, but only three during the second quarter.
In July 2015, Didi Kuaidi raised US$2 billion, which could potentially be the biggest venture investment deal so far this year.
It is not uncommon for a Chinese start-up to raise multiple rounds of funding in short periods of as little as less than a year. Hangzhou-based Diandian Yangche, for example, completed three rounds of financing in a year, raising a total of nearly US$100 million.
Whether this looks like a technology bubble ready to pop is a personal judgement. Even if it does go south, the Chinese mobile Internet will continue reshaping lives. But for now, residents living in Shanghai, Beijing, Shenzhen, and other large cities can enjoy the freebies – while they last.