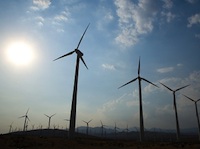 CGN Capital Partners Fund III L.P., a private equity fund focused on renewable energy infrastructure in China, has completed a first closing of RMB1.87 billion (US$292 million), according to a company announcement.
The fund, with backings from China General Nuclear Power Company and New Zealand investment manager H.R.L. Morrison & Co., aims to raise RMB5 billion (US$780 million) in total.
The investment vehicle's strategy is to invest in operating renewable energy infrastructure assets, with a particular focus on wind, hydro and solar power.
The joint fund is incorporated in Qianhai, Shenzhen under the Qualified Foreign Limited Partnership (QFLP) program, which allows foreign investors to form an onshore RMB fund to invest in private Chinese companies.
CGN Private Equity Fund Management Company Limited (CGNPE), a private equity investment subsidiary of CGN, will be the fund manager.
A subsidiary of Jida Capital Partners Limited, which in turn is a subsidiary of H.R.L. Morrison & Co, will be the general partner of the fund.
Two Chinese banks and asset management companies, as well as clean energy companies, have committed to the fund.
"We are looking at a number of opportunities and expect to commit to our first investment very soon," says Yin Engang, chairman of CGNPE.