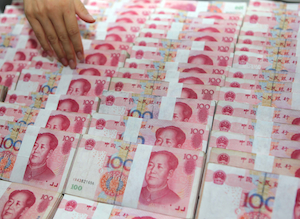 The annual growth rate of China's capital allocations to its "One Belt One Road" initiatives will double from 15% to 30% over the next three years, meaning a total of over US$200 billion will be spent on the initiative by 2018, according to estimates by UBS AG.
Specifically, the initiative refers to the "New Silk Road Economic Belt", a program of economic development and support forging links between China and Europe via Central and Western Asia.
It also includes the "21st Century Maritime Silk Road" project with the same objecitve between China and Southeast Asian countries, Africa and Europe.
UBS uses "Patronomics" to describe the current flow of outward direct investment from Asia's biggest economies to developing countries.
The result of such government-guided policies will ultimately boost Asian GDP and reduce the region's dependency on oil imports.
Chinese outward investments are directed towards a broad range of sectors, including logistics and infrastructure projects such as rail and port construction.
A number of new overseas railway contracts are likely to be signed in the next three to six months with its total investments potentially exceeding US$20 billion.
This figure includes the China-Laos railway (US$6.8 billion), Thailand (US$8.4 billion) and Jakarta-Bandung, Indonesia (US$5.5 billion).
As such, UBS favors stocks of Chinese railroad companies, state-owned construction firms and equipment makers.
But, China's patronomics are not just about building infrastructure and securing natural resources.
After analyzing China's more than 1,500 outward direct investment projects between 2005 to 2015, UBS analysts found that Chinese outward investments are shifting away from the traditional energy, transport and metal and mining sectors.
These sectors took around 72% of China's total outward investments in 2013, but it fell to 50% during the first half of 2015.
Instead, there have been increasing investments in other sectors, such as real estate, technology and finance. This means other Chinese companies actively pursuing opportunities related in the One Belt One Road initiatives could also benefit.
Aside from China, Japan is also engaged in patronomics, having announced its intention to increase funding to Asian countries by an additional US$110 billion during the next five years.