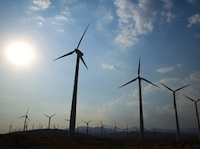 Lexington, Massachusetts-based QD Vision, a next-generation OLED display developer, has completed US$22 million new round of financing led by Tsing Capital and BASF Venture Capital GmbH, according to a company announcement.
The company says it will use the proceeds to invest in further development of intellectual property inventions and to support the company's accelerating growth.
At the same time, QD Vision announced a new joint development agreement with BASF Group to develop a backlight and color filter solution systems.
"QD Vision…has distinguished itself as the preferred choice of Chinese TV manufacturers," says Michael Li, managing partner at Tsing Capital. "(It) is a natural fit for our China Environmental Fund."
Established in 2001, Tsing Capital is a venture capital firm focused on clean tech investments in China.