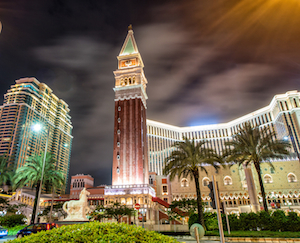 Standard & Poor's Ratings Services has cut its forecast for Macau's gaming sector, projecting annual revenue drop to be 30% to 35%, down from a previous expectation of a 25% to 35% decline, according to a research report.
The gross gaming revenue in Macau has declined 35.5% during the first ten months, due to a more than 40% drop in the high-roller VIP segment and a 30% decrease in the mass market segment.
However, the rating agency expects the decline to moderate to less than 10% in 2016, given a lower revenue base and the opening of new casinos that will target mass-market customers.
S&P says a meaningful rebound in gaming revenue in Macau is unlikely in 2016 as policy headwinds and the shift from high rollers to the mass market persist.
The impact of the Chinese government's commitment to stamp out corruption and tighten regulations in Macau will continue to constrain growth in gross gaming revenue in Macau, it says.
A newly introduced cap on overseas cash withdrawals through China UnionPay bankcard and potential tightening of regulations on junkets may further undermine demand in the Macau gaming industry, especially from high rollers.
The fall in gaming revenue growth will have a smaller impact on casinos that are relatively focused on the mass market, such as Las Vegas Sands Corp, Melco Crown (Macau) Ltd., and MGM Resorts International.
However, those casinos with a heavier reliance on the VIP segment will feel more pain, including Wynn Resorts Ltd. and Galaxy Entertainment Group Ltd.