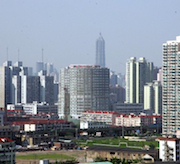 Alibaba Group Holding Limited has launched an NT$10 billion (US$310 million) entrepreneurs fund for Taiwan, hoping to support entrepreneurs interested in leveraging Alibaba's platforms in e-commerce, logistics, mobile platforms, cloud computing and financial services, says an announcement.
The Taiwan Entrepreneurs Fund is a not-for-profit organization, and will invest in start-ups based on Alibaba's existing ecosystem to offer products and services to Greater China and the world.
The board of the fund includes Charles Yen, co-founder and principal of the AAMA Taipei cradle program, Joseph Tsai, senior executive vice president of Cathay Financial, and Danny Chiu, chairman and chief executive of Morrison Express Corp.
Andrew Lee, former chief financial officer of EnTie Bank, will serve as executive director.
"We…hope the resources provided by the fund will help unleash potential for innovation and entrepreneurship in Taiwan," says Joe Tsai, executive vice chairman of Alibaba.
The fund plans outsource deal sourcing and management to outside entities, having selected a subsidiary of China Development Industrial Bank (CDIB) as its first investment manager.