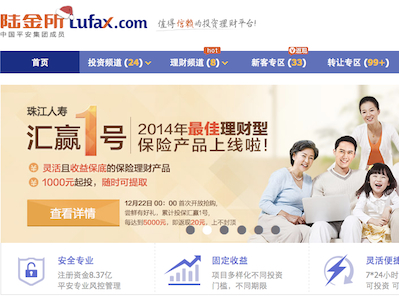 Shanghai Lujiazui International Financial Asset Exchange (Lufax), an online financial services start-up launched by Ping An Insurance Company of China, Ltd., has agreed to partner with nearly 30 major private investment fund houses to help distribute their products online, according to Chinese media reports.
The managers include Shanghai Chongyang Investment, DH Fund Management, China Future Capital, Greenwood Asset Management, Starock Investment, and others.
Shanghai-based Lufax will help these fund houses to launch their products online, conduct cross-selling, potentially link their trading systems and explore offering other innovative products together in the future.
Launched in 2011, Lufax was reportedly seeking another round of financing before its planned initial public offering next year.
In March, Lufax raised RMB3 billion (US$485 million) led by Ping An Insurance, with participation from Morgan Stanley and other undisclosed investors. The round valued the company at roughly US$10 billion.
Lufax, with the support of the Shanghai municipal government, started as a peer-to-peer lending platform. Starting from the beginning of this year,
Lufax began diversifying its offerings to become a comprehensive online financial services company offering P2P lending, mutual fund products, cross-border trading, insurance, wealth management products
This agreement with the Chinese private investment funds will launch Lufax's so-called sunshine private equity fund channel.