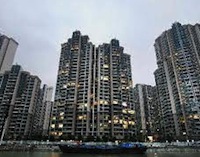 RRJ Capital and Value Partners Group Limited have led an investor consortium to invest HK$1.55 billion (US$200 million) in Shenzhen-based Logan Property Holdings in a private placement deal, according to a securities filing.
The investors subscribed to newly issued shares and acquired existing shares at HK$2.78 apiece of Logan Property, which is listed in Hong Kong and focuses on developing residential property projects in the pearl river delta region.
After the completion of the share subscription, RRJ Capital will hold 5.02% of the company's total issued shares, while Value Partners will own 1.5%. Other undisclosed investors in the placement deal will take a 3.51% stake.
According to the shareholding structure, RRJ Capital invested around US$100 million in Logan Property.
Logan Property said the other investors included sovereign wealth funds, insurance companies, global hedge funds and existing institutional investor shareholders without naming them.
At a time when sentiment for the Chinese property sector is the weakest in years, the move is a contrarian play for RRJ Capital, which just closed its third fund with US$4.5 billion in total capital commitments last month.
This is not the first time RRJ has invested in Chinese property developers. Two years ago, RRJ injected US$50 million in Shanghai-based real estate developer CIFI Holdings (Group) Co. Ltd.
RRJ acquired shares of Hong Kong-listed CIFI at HK$1.52 apiece. Its stocks are trading at around HK$1.77 per share today in Hong Kong, after peaking at HK$2.6 in May, though it is still too early to determine how successful RRJ's bet will be.
The investment manager has been interested in the Chinese real estate sector for some time. In 2013, it was reportedly seeking a US$500 million Asian real estate fund with a focus on China, but the news was never confirmed.
Logan Property recorded contracted sales revenue of RMB16 billion for the first ten months this year, up 51.5% compared to a year ago, says its website.
The company has 51% of its land reserves in the pearl river delta region, and over 50% of which is in Shenzhen, where new commercial home prices jumped 40% year-on-year in October.
Shenzhen's housing prices have increased the fastest among all major Chinese cities for the past 11 months.
RRJ Capital is founded by Richard Ong, former founder and CEO of Hopu Fund. Before that, Ong spent 15 years with Goldman Sachs with the latest position as co-head of Asia Ex Japan investment banking.
The firm's co-CEO is Richard Ong's brother, Charles Ong, who was formerly with Temasek Holdings holding positions including chief investment officer and chief strategy officer.