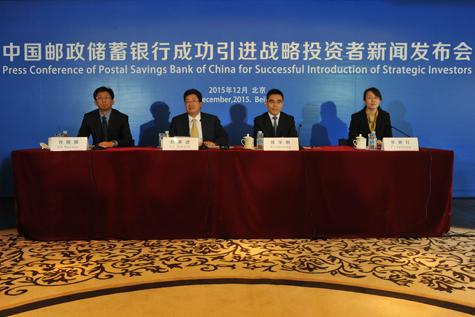 Postal Savings Bank of China Co. (PSBC) has raised RMB45.1 billion (US$7 billion) by selling a 16.92% stake to ten investors including UBS Group AG, the Canada Pension Plan Investment Board and Temasek Holdings Pte, according to a press conference held in Beijing today.
In April, it was reported that PSBC planned to raise over US$3 billion from selling a 10% stake in preparation for its initial public offering in early 2016.
The final tally of investors include six international investors including JPMorgan Chase & Co., DBS Group Holdings Ltd. and the International Finance Corp.
Two state-owned enterprises China Life Insurance Co. and China Telecommunications Corp., as well as two Chinese Internet companies Tencent Holdings Ltd. and Alibaba Group Holding Ltd.'s finance affiliate Ant Financial also participated.
The deal, which is the biggest private fundraising by a Chinese financial institution, values PSBC at US$41 billion.
PSBC is an arm of state-owned China Post Group Co., and has about 40,000 branches nationwide serving 470 million customers.
Its total assets stood at RMB5.58 trillion (US$892 billion) at the end of 2013, according to its website.