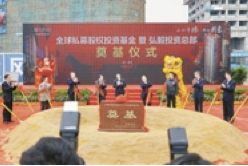 Hony Capital has held a foundation stone laying ceremony in the Qianhai special economic zone in Shenzhen yesterday, signaling the start of the construction of the Chinese private equity firm's future headquarters, according to Chinese media reports.
At the same time, Legend Holdings also plans to establish the headquarter of its financial services arm in Qianhai.
"The Chinese private equity industry will mature and grow further in the next ten years. It will become an influential market globally," says John Zhao, founder and chief executive officer of Hony Capital.
Hony Capital registered its headquarters' administrative entity in Qianhai in 2013, and raised a RMB1 billion (US$158 million) RMB-denominated mezzanine fund in the special economic zone that year.
There is no information on when the headquarters will be completed.
Hony Capital, with offices in Beijing, Hong Kong and Shanghai, was founded in 2003 with the backing of parent Legend Holdings.
It currently manages five U.S. dollar funds and two RMB funds, as well as two RMB mezzanine fund with more than RMB48 billion (US$7.4 billion) of assets under management.