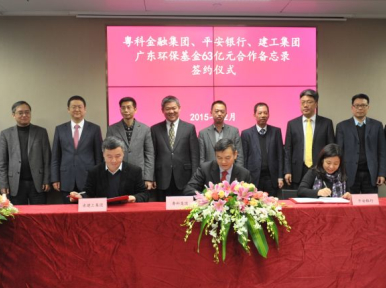 State-owned investment firm Guangdong Technology Financial Group Co., Ltd., Ping An Bank Co., Ltd and Shanghai Construction Group have signed a memorandum of understanding to establish a Guangdong province environmental protection fund with RMB6.3 billion (US$970 million), according to an official announcement.
Guangdong Technology Financial Group, which will be the general manager of the fund, and Ping An Bank will each commit RMB2 billion and RMB4 billion, respectively. Shanghai Construction Group will commit RMB300 million.
The public-private partnership fund will help fund waste water treatment plants and other environmental protection infrastructure projects in the province.
The fund will function as a fund-of-funds, helping to seed multiple funds established by various local governments to support environmental protection projects. The fund-of-funds will commit capital less than 20% of the total of any funds it backs.
As part of the agreement, Ping An Bank has also agreed to provide loans of up to RMB30 billion to the fund's manager, Guangdong Technology Financial Group, as additional means of funding for environmental projects.