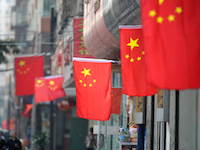 China's Central Economic Work Meeting concluded yesterday in Beijing. The post-meeting communique showed a political will to stabilize growth amid an uncertain environment, and China's overall policy will still attempt to attain a growth target of about 6.5% in 2016, says a research report by ANZ.
The meeting focused on executing the 13th Five-Year Plan and pushing forward structural reforms. Most importantly, the meeting coined a new terminology called "supply-side structural reform", which consists of five pillars:
1. On the frontier of the macroeconomic policy, fiscal deficit ratio will be lifted gradually and monetary policy will be more flexible;
2. Industrial policy should accurately point to right direction;
3. Using market force to establish a vibrant micro foundation for the reforms;
4. Reform initiatives should be put into reality;
5. Using social security policy to guard against the adverse impact of the reforms on the community.
Instead of simply boosting aggregate demand, the strategy aims to support growth through lifting productivity and efficiency. The terminology is used to equate deepening reforms. The policy package of macroeconomic re-balancing, corporate deleveraging and supporting the drive for innovation will continue.
China's economic strategy for 2016 will fall into five major areas:
1. Address overcapacity problems;
2. Facilitate cost reduction for the enterprises through lowering their tax burden and financial costs;
3. De-stocking in the property sector, helping the rural residents to purchase their homes in the urban areas of the cities and encouraging property developers to lower house prices. Additionally, outdated home ownership shall be removed;
4. Increase the effectiveness of the supply side, including the lifting up of the innovative capacity of the economy;
5. Mitigate the financial risks facing the private sectors and the local governments.
Even though the Chinese government is likely to attempt to attain a growth target of about 6.5% in 2016, it can accept slower growth and allow de-stocking to continue, says the report. It will not be hands-free and aim to support the economy on a target basis. China's fiscal policy will be more proactive and monetary policy will remain accommodative.
It also means that policymakers will be willing to challenge the status quo and tolerate a larger degree of market movement compared with the past.
The bank's forecast remains for China to achieve 6.4% GDP growth in 2016, and cut the reserve requirement ratio of 200 basis points and lower of interest rate level by 100 basis points in 2016.