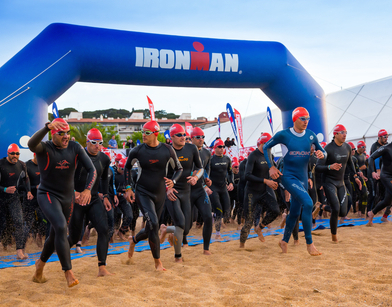 Wanda Sports Holdings Co. says it plans to host its first Ironman event in the city of Xiamen in Eastern China's Fujian province next November, after the sports unit of Dalian Wanda Group completed the acquisition of the World Triathlon Corp last month, according to an announcement.
In August, Wanda announced its plans to acquire the World Triathlon Corp from U.S. private equity firm Providence Equity Corp for around US$900 million, obtaining the ownership of a world-class competition brand as part of its effort to strengthen its sports businesses.
Wanda said afterward that some events on the worldwide Ironman race circuit prior to the Ironman World Championship, the biggest event on the extreme endurance sports calendar, would take place in major Chinese cities.
The event planned in Xiamen next year will be an Ironman flagship race that includes 1.9 kilometers of swimming, 90 kilometers of cycling and a 21.1 kilometers run.
In next year's event, 15 athletes will be given the qualification to attend the Ironman World Championship to be held in Kona, Hawaii in 2017.
Wanda says that a number of Chinese cities showed interests to host the event. It chose Xiamen for its amicable climate and environment, as well as its sports tradition.
Xiamen has been hosting the Xiamen International Marathon for 13 consecutive years.
There are several triathlon events in China, but none of them are operated by the Ironman brand.
The World Triathlon Corp accounts for a 91% global market share of long-distance triathlon events, says the announcement.