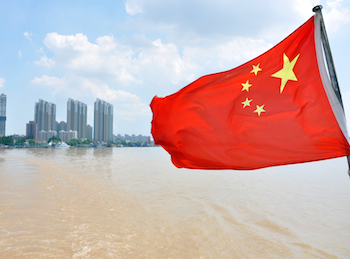 China's December economic activity may have stabilized at low levels and the country's economy is likely to have expanded at 6.9% for 2015, as a result of recent growth support policies, ongoing property sales growth and still improving credit growth, predicts a research report by UBS AG.
Average industrial production growth likely stabilized in the fourth quarter at the same previous pace of 5.9% year-on-year growth as China's service sectors sustained a robust pace of growth with real retail sales likely quickening from third quarter's 9.8% to 10.4% growth.
Property sales, however, may have experienced a slightly cooler pace of growth of around 6%, down from the third quarter's 13.5%. Stock market trading volumes is likely to have decelerated from 120% expansion in the third quarter to 53% in the fourth quarter.
Fixed asset investment should have grown 10.2% for 2015, predicts UBS. Thanks to the government's concerted efforts to speed up the implementation of public infrastructure works with both policy guidance and enhanced financing, December infrastructure fixed asset investment should have posted a solid 20% expansion year-on-year.
In contrast, corporate fixed asset investment (mostly manufacturing) may have weakened to a pace of single digit, as hinted at the official purchasing managers' index's production and business expectation sub-index, which contracted again.
Consumer price index (CPI) likely eased to around 1.4% and producer price index (PPI) may have contracted close to 5.2% for the full year, with December CPI to have edged up from November's 1.5% to 1.6%, supported by price gains for food especially vegetables, pork and eggs.
Credit growth likely improved again. Inter-bank liquidity remained accommodative, with the 7-day repo rate drifting down from around 2.4% in November to around 2.3% in December.
Despite a historical seasonal pattern of new loan weakness towards year-end, this year's December print likely bucked the trend with the recent intensification of policy-supported financing lines. UBS predicts December's new RMB loans to be around RMB700 billion. Net new corporate bond issuances likely kept up a fast pace with around RMB490 billion, higher than the previous month's RMB420 billion and more than five times December 2014's level.
Local government debt swap slowed last month, as new local bond issuance moderated from over RMB700 billion to around RMB200 billion. Note however that this may have been somewhat distorted by some November local bond issuances being used for December local debt swap. But total outstanding credit growth, including total social financing aggregate and local government bonds outstanding, likely picked up in December, from 14.8% year-on-year previously to 15.1%, says UBS.