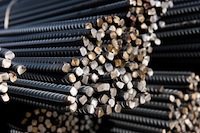 Shanghai-based steel B2B (business-to-business) platform Zhaogang.com has completed RMB1 billion (US$153 million) series E round of financing from undisclosed investors, says Chinese media reports citing the company's senior management.
The start-up is in the process of dismantling its variable interest entity (VIE) structure, which is commonly used to receive U.S. dollar venture investment and seek a public listing overseas.
The company is planning to complete an initial public listing in Shanghai's newly approved strategic emerging industries board afterward, says the reports.
Founded in 2012, Zhaogang.com completed US$100 million series D financing led by IDG Capital and Huasheng Capital in 2015.
In 2014, it received US$34.8 million series C financing led by Bull Capital and Sequoia Capital, with participation from Matrix Partners China and K2 Ventures.
The company previously received undisclosed series A funding from K2 Ventures and Zhen Fund in 2012, and undisclosed series B funding from Matrix Partners China and K2 Ventures in January 2013.
Zhaogang.com records daily trading volume of 200,000 tons of steel on its online platforms, which has over 60,000 registered active corporate buyers.
It has 1,500 employees with over 20 domestic offices in China and one subsidiary in South Korea, according to its website.