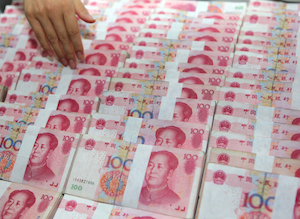 China's trade data came in better than expected in December, but it does not alter the expectation that the Yuan will face mounting depreciation pressures in the coming years. The Chinese currency might depreciate around 5% this year, according to a research report by UBS AG.
China's December exports and imports both came in stronger than expected, resulting in a larger-than-expected trade surplus of US$60 billion. The full 2015 trade surplus increased to almost US$600 billion.
The data helped to calm the currency market, along with the Chinese central bank's recent CNY fixing signals. China's trade surplus could have been slightly larger in December if Chinese imports from Hong Kong were not so strong, which may be a sign of capital outflows disguised via over-invoicing of imports, says the report.
Despite the larger than expected trade surplus, China's official foreign reserves declined by a record US$108 billion in December to US$3.33trillion.
UBS estimates that valuation gains stemming from the Euro and the Japanese Yen's appreciation against U.S. dollar totaled about US$21 billion.
The bank also believes that an important factor behind the decline of foreign reserves may be the unwinding and paying down of foreign currency denominated debt by Chinese corporations.
In addition, the recent strength of depreciation expectations likely led to households and corporations allocating more of their assets to foreign currencies.
After depreciating by about 1.5% against the U.S. dollar in December, the RMB weakened by another 1.5% in the first week of January, before strengthening somewhat in the past couple of days.
Recent CNY depreciation really reflects a shift in the exchange rate regime, says UBS. Since last August, the People's Bank of China has repeatedly said it wants to increase the flexibility and market-orientation of the exchange rate, referencing it more to a basket of currencies.
The bank maintains that there will be modest depreciation of around 5% this year for the Chinese currency, with the USD/CNY trading at 6.8 at the end of this year.