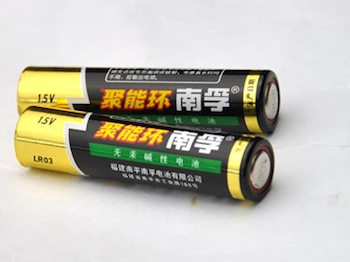 Chinese battery maker Fujian Nanping Nanfu Battery Co., controlled by Chinese private equity and venture capital firm CDH Investments, is near completion of a reverse merger to become listed on China's New Third Board, according to disclosure documents (in Chinese).
The reverse merger was first disclosed in September 2015 by Ningbo Yajin Technology Co., Ltd., a medical software company listed on China's National Equities Exchange and Quotations (NEEQ).
In the transaction that values China's largest alkaline battery company at RMB4.4 billion (US$668 million), an entity controlled by CDH Investments will become the controlling shareholder of Ningbo Yajin Technology, with CDH Investments owning a 99.81% stake.
Ningbo Yajin Technology, on the other hand, will own 60% of Nanfu Battery, which will become a subsidiary of Ningbo Yajin Technology.
The 60% stake of Nanfu Battery is valued at at RMB2.46 billion (US$400 million), says the filing.
The transaction will increase Ningbo Yajin Technology's registered capital to RMB2.65 billion from RMB5 million previously, after the CDH Investments-controlled entity subscribes newly issued shares of Ningbo Yajin Technology.
According to the disclosure document, two entities controlled by CDH Investments partners, Wu Shangzhi and Jiao Shuge, controls 84% of Nanfu Battery as of the end of 2015.
In Ningbo Yajin Technology's latest disclosure filing yesterday, it says the transaction has been examined by the stock exchange, and it is in the process of applying to regulators to allow trading of its shares, which has been suspended since last June.
In October 2014, CDH Investments agreed to acquire around 79% of Nanfu Battery from Procter & Gamble for an undisclosed amount in the investment firm's second ownership of the battery maker.
In 1999, CDH Investments, together with China International Capital Corporation Ltd. (CICC), Morgan Stanley, ABN-AMRO Bank and Singapore's GIC, established a joint venture with Nanfu Battery.
The investors sold Nanfu Battery to Gillette in 2003 for an undisclosed amount. Procter & Gamble acquired Nanfu Battery stake when it acquired Gillette in 2005.