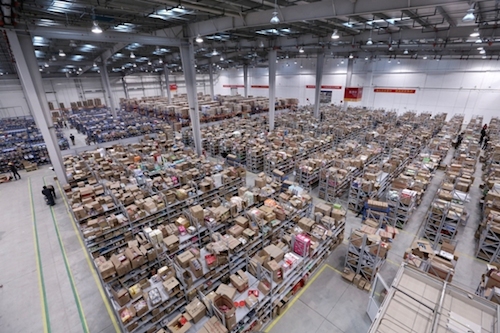 Cainiao Network, the logistics affiliate of Alibaba Group Holding Limited, is preparing to start a round of fundraising at a rumored valuation of RMB40 billion (US$6 billion), according to Tencent Finance.
Founded in 2013 by Alibaba and a group of Chinese logistics firms, Cainiao previously disclosed that it planned to pump US$16 billion into the endeavor over the next five to eight years.
Cainiao's businesses focus on two priorities: building a national warehouse network and consolidating existing logistics companies.
So far, Cainiao has reportedly spent RMB20 billion (US$3 billion) on buying land for building warehouses in 14 Chinese cities, including Tianjin, Guangzhou, Wuhan, Zhengzhou and Chengdu.
Cainiao's logistics information platform connects a network of more than 3,000 logistics partners in China and abroad. Collectively these service providers operate over 176,000 delivery stations across China.
Cainiao has also established more than 300,000 pick-up stations where consumers can take delivery of online-ordered goods in more than 190 Chinese cities.
When Cainiao was founded in 2013, Alibaba's executive chairman Jack Ma was determined that it would not build its own logistics unit.
Instead, Jack Ma decided to build Cainiao into a platform that consolidates the country's fragmented logistics sector, using big data technology to improve efficiency of parcel delivery.
According to Deloitte & Touche, mainland China has over 20 major players in the express delivery category in 2013, and another 8,000 smaller ones serving regional markets.
Other backers of Cainiao include Chinese conglomerates China Yintai Holdings Co. and Fosun Group, as well as the country's biggest logistics firms SF Express Co., Ltd., Beijing ZJS Express, Ltd., STO Express, Shanghai YTO Express, ZTO Express, Best Express and Yunda Express.
What's noteworthy is that Alibaba and Yunfeng Capital, a private equity firm founded by Jack Ma, acquired approximately 20% of YTO Express last year.
Alibaba is also an early investor in Best Logistics, which is raising US$700 million in a new fundraising round ahead of a planned initial public offering.