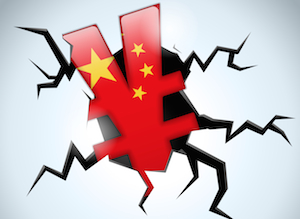 A slump in property and other key asset values in China could destabilize the economy and the financial sector unless proper measures are in place to anchor investor confidence, according to a report issued by Standard & Poor's Ratings Services today.
"Corporate defaults are likely to increase as the central government gradually withdraws its implicit support for troubled companies. And deeper measures to support Corporate China will probably come at the expense of banks' profitability," writes Standard & Poor's credit analyst Qiang Liao.
"We therefore expect credit profiles to deteriorate across the financial sector, particularly for smaller players," he adds.
The government's "supply-side" reforms may affect the asset quality and
profitability of overcapacity industries and the financial sector, which could dampen investor confidence in Chinese assets.
Such a loss of confidence in the property market and corporate bond market would particularly exacerbate risks to the financial sector.
Should property prices decline in a disorderly manner, the falling value of properties will at least partially undo the ongoing corporate deleveraging efforts.
Such a decline would also undermine corporate refinancing capabilities because property is currently used as collateral for 30%-40% of corporate borrowings from Chinese banks.
The dual effects may eventually weaken the creditworthiness of banks, which in turn could further undermine the property market.
Currently, the China All Bond Index stands at an all-time high after soaring for the past two years. This market matters because it affects corporates' funding costs.
More importantly, banks have a lot of indirect exposure to corporate bonds via the sale of wealth management products to retail investors.
The government is adopting a so-called "bottom-line mindset," which S&P views as a form of crisis management.
It suggests the policymakers are willing to press ahead with reform measures on a trial-and-error basis as long they don't trigger a financial crisis or social instability.
"If something doesn't seem to be working, the government could simply reverse the measures again," says Liao.
That exposes the financial sector to significant costs associated with the reform measures and suggests elevated policy risks for financial institutions.
"We've seen the impact of this in the heightened volatility in China's equity and currency markets since mid-2015," adds Liao.