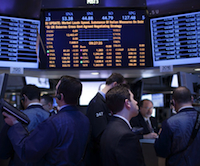 Performance among hedge funds globally is witnessing increasing dispersion, with top quartile managers delivering double digit returns while bottom quartile losing on average of 5% in 2015, according to an annual hedge fund survey conducted by Deutsche Bank.
As a result, selecting the right hedge funds with a unique skill set and competitive advantage is increasingly critical for investors.
After surveying 504 global hedge fund investors representing US$2.1 trillion in assets, Deutsche Bank found that investors expect hedge funds to outperform equity markets in 2016 with global hedge fund assets expected to climb to US$3 trillion.
"Despite a challenging year for global financial markets and for hedge funds, investors remain committed to their hedge fund programs, with 41% planning to increase their hedge fund allocations in 2016," says Ashley Wilson, global co-head of prime finance at Deutsche Bank.
The survey also found that pension funds' allocations to hedge funds are trending upward year on year. The average pension fund has an 8% allocation to hedge funds, up from 7% last year.
Additionally, 71% of pension fund respondents utilize an investment consultant, compared to just 15% in 2010.
Hedge fund managers today are competing for a place amongst an average of 36 funds versus 60 in 2008, due to a scarcity of alpha and capacity concerns.
In addition, management and performance fees have come down marginally, but investors will pay for quality.
The average management fee that investors pay remains unchanged year on year at 1.63%, whilst the average performance fee has trended downward slightly during this period from 18.03% to 17.85%.
Despite continued headline pressure on fees, 42% of investors say they would allocate to a manager with fees in excess of the traditional 2% management fee plus 20% performance fee for a new allocation.