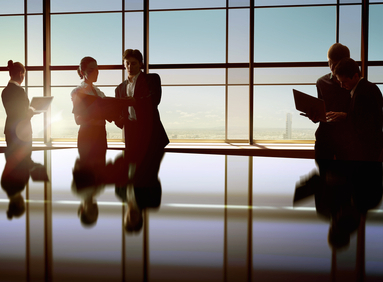 Chinese entrepreneurship service and media company 36Kr has spun off its KrSpace division, in an attempt to expand the unit into a national co-working space network, according to a company announcement.
KrSpace has also completed an independent series A funding round. Financial details were not disclosed.
The unit, originally focused on entrepreneur office space and services, has entered the co-working space and expended into nine major cities in China including Beijing, Shanghai, Shenzhen and Hangzhou after the spin-off, says the announcement.
It plans to open 50 more sites in 2016, hoping to turn itself into the equivalent of WeWork, a New York-based co-working space company that just completed a US$430 million new financing round led by Hony Capital and parent company Legend Holdings two weeks ago.
Chinese start-up UrWork, a co-working office space firm founded a year ago by a former executive at China Vanke Co., Ltd., also completed RMB200 million (US$31 million) series A+ round of financing from undisclosed investors earlier this month.
"We are targeting WeWork regarding the co-working space service. WeWork is very successful in the U.S. But we are more than that," says Zhong Shu, president of KrSpace, in the statement, comparing KrSpace as a hybrid of WeWork + Y-Combinator + A16Z + RocketSpace.
36Kr previously were comprised of financial services unit rong.36Kr.com, co-working space space.36Kr.com, and online media platform media.36Kr.com.
All units focus on the TMT (telecommunications, media and technology) sector and serve a combined 100,000 Chinese start-ups.
The company completed an undisclosed amount series D round of financing led by Ant Financial, the financial services arm of Alibaba Group Holding Limited in October 2015. Its earlier backers include Matrix Partners China and e.ventures.

Below is the company's release for an interesting and entertaining read:
BEIJING, March 23, 2016 /PRNewswire/ — January 25th 2016, KrSpace spun off 36Kr and then announced Series A funding independently.

36Kr comprises of rong.36Kr.com, space.36Kr.com and media.36Kr.com, and since its inception, it has become a leading eco-system for TMT (telecommunications, media and technology) entrepreneurship in China as well as the largest domestic financial agent for equity transaction in primary market. At the moment, 36Kr platform contains more than 100,000 Chinese startups.

Before the spin-off, KrSpace was a part of 36Kr that provided entrepreneurs office space and entrepreneurial service. In the last two years, KrSpace incubated 101 startups, 97% of which had acquired the next round of financing. After spinning from the mother company, KrSpace started a new business mode of co-working space and strategically entered major cities in China. Now, KrSpace has 9 office sites in Beijing, Shanghai, Shenzhen, Hangzhou, Suzhou, and Nanjing; while it plans to open 50 more sites in 2016. At that time, there will be over 5,000 startups in KrSpace community. The large scale in co-working space market makes KrSpace the "WeWork in China".

When asked whether KrSpace want to become the "Chinese WeWork", Zhong Shu, the president of KrSpace, did not disagree: "We are targeting WeWork regarding the co-working space service. WeWork is very successful in the US. But we are more than that."

Besides the scale, KrSpace is also praised by its entrepreneurial service, which is the difference between KrSpace and WeWork. As Zhong Shu said, KrSpace is more like a hybrid of WeWork+ Y-Combinator +A16Z+RocketSpace.

The part of WeWork in KrSpace is a base, which could provide over 700 million small and medium-sized Chinese companies a new mode of office — co-working space. In early days, many people refered KrSpace as Y-Combinator in China on account of its valuable entrepreneurial service. Later this year, KrSpace will also establish a fund to invest in a small amount of most-promising startups and help them by all kinds of resources, just likes the A16Z model. About the part of RocketSpace, KrSpace has an elite community called "Skull and Bones", which provides a series of "innovation services" to the club members, including connecting startups, entrepreneurs and partners, accelerating the growth, and eventually helping them become the unicorns in every industry.

Recently, WeWork announced to start business in China; surprisingly, KrSpace was compared with WeWork by many Chinese media. There is huge difference between the real estate industry in China and the US, therefore, the business mode of WeWork, which relies on low cost and high price-to-rent ratio of real estate in the US, may not apply to the China market. In this case, KrSpace, aiming at entrepreneurs, may be a unicorn in the future.