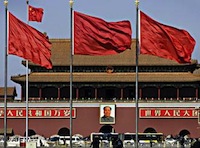 During President Xi Jinping's inspection tour to Anhui province this week, his speech signaled that the Chinese government is concerned about the fragile recovery and strong stimulus will have to continue in the months ahead, according to a research report by Mizuho Securities Asia Ltd.
President Xi paid a special visit to Xiaogang village in eastern Anhui, the symbolic birthplace of China's reform policy first introduced in 1978.
Recognizing that reform policy has transformed China's economy, President Xi also noted that reform will continue to be the Communist Party's unwavering task.
The government's commitment to reforms is also reflected in a visit to the Institute of Advanced Technology in Hefei's University of Science and Technology of China to see the latest developments in robotics.
President Xi also called for breakthroughs in next-generation internet technologies.
Remarkably, President Xi also emphasized the significance of "reasonably expanding aggregate demand" in the economy, while the government looks forward to make progress in supply-side reforms.
This suggests that expansionary monetary and fiscal policy will continue in the face of weakening growth momentum and the potential for rising social conflicts should growth falter, says the report.
In addition, President Xi highlighted that it is the responsibility of the government to protect the livelihood of the people and to ensure sufficient social welfare.
He added that both the government and corporate sector need to ensure that laid-off workers will find re-employment as soon as possible, and that a social safety net is in place to minimize the social impact from transitional unemployment.
Although the official surveyed unemployment rate remains largely stable at 5.2% year-on-year, President Xi's comments could suggest that the actual employment situation might be less optimistic.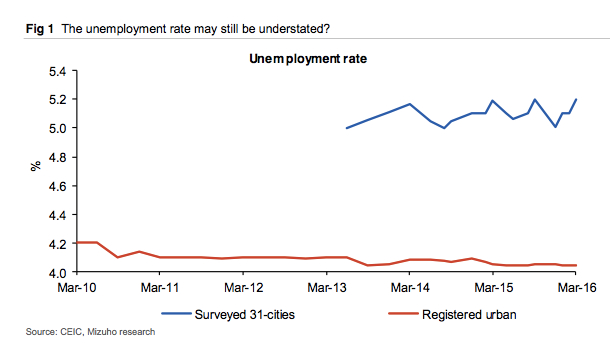 Industrial profit, which rebounded to 7.4% year-on-year year-to-date in March, was also driven by state-owned enterprises, mainly as a product of stimulus.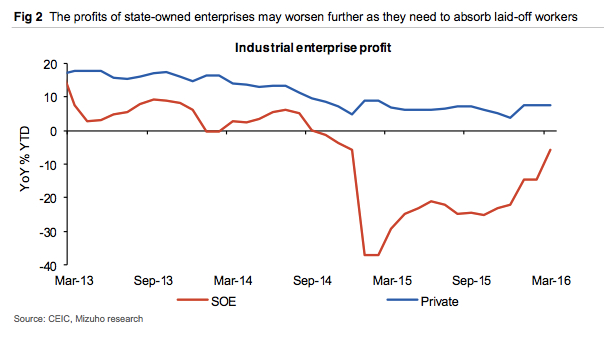 This underlines the weakness in the industrial sector that pertains to the fragile recovery.
Furthermore, President Xi's pledge to call on the business sector to quickly absorb laid-off workers deepened the bank's concerns.
Although the government recognizes structural reforms in the 13th Five Year Plan as the key to sustainable growth, their implementation will be a challenge as a result of the conflicting government agenda.