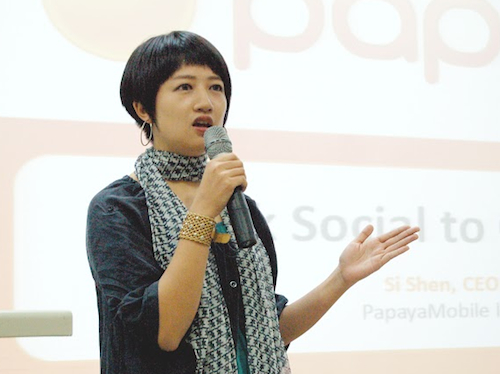 Venture-backed PapayaMobile, a Chinese mobile advertising firm, is in the process of listing on China's New Third Board to raise US$40 million, according to a company announcement.
The company's shares began trading today on the National Equities Exchange and Quotations (NEEQ).
"Listing on the NEEQ is strategic to our international expansion into markets like the United States, India, and Southeast Asia," says Si Shen (pictured), CEO of PapayaMobile.
"We saw a great opportunity to go public in China and the NEEQ will enable us to raise more funds to implement an aggressive international M&A plan," she adds.
PapayaMobile expects to close at least two multi-million dollar acquisition transactions in 2016, with more in the pipeline for 2017 and 2018, according to its statement.
The company previously received US$4 million series A round led by DCM and a US$18 million series B round from Keytone Ventures and DCM.
PapayaMobile started as a mobile social gaming platform in 2008, and is projecting 2016 revenue of RMB1 billion (US$153 million) with RMB100 million expected in net profit.