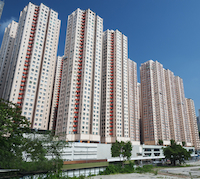 The recent surge of property prices and sales in China has triggered bubble talk and concerns over one of the most important pillars of the Chinese economy, but UBS AG says there is unlikely to be a big bubble burst in the near future.
Property sales grew by more than 25% nationwide in the first eight months of this year, with residential sales totaling 1.28 billion square meters in the 12 months to August, or over 12 million units.
Property prices in a number of cities have risen by 30% to 40% year to date, and in some districts over 50%, with the rally spreading to more cities.
The much-hoped for property recovery came after two years of progressive policy easing, starting with relaxation of home purchase restrictions in mid-2014, followed with multiple mortgage down payment requirement cuts, increased credit access for mortgages and developers, land supply restrictions, and other measures to speed up urbanization and property de-stocking during the past two years.
The most important factor setting off the recent rally may have been the last down payment requirement cut in February this year coupled with a surge in credit expansion in the following months.
Does the recent property frenzy in some cities mean that a big property bubble has been reflated and is about to burst soon, leading to devastating economic and financial consequences?
It is unlikely in the near future as the frenzy has not yet spread to a great many cities, pushed household debt to unsustainable levels, or led to strong construction growth, UBS predicts in a report.
Although urban household mortgages will likely rise to over 50% of urban disposable income this year, equating to an over eight percentage point increase from 2015, household leverage is not yet at alarming levels.
The loan-to-value ratio of incremental new mortgage loans is still within a reasonable range despite the recent sharp increase. Mortgage refinancing is rare and the use of home-equity loans is only starting.
The above factors mean that Chinese home owners are less vulnerable to a rate hike, and may have stronger holding power to their properties in cases of price corrections, limiting any downward spiral that could come from homeowners walking away from homes with negative equity.
Moreover, the overall weak state of the economy means that monetary policy is unlikely to tighten significantly soon.
But does that mean that property sales and price increases will be sustained, leading to a major re-acceleration of property construction to propel the economy once again in the next couple of years?
It is possible but unlikely for now, UBS argues. So far developers have been reluctant to increase construction significantly. Uncertainty over the policy outlook and high leverage may delay developers' new construction activity.
UBS believes that property sales will remain robust in the coming months and exceed new property starts, leading to continued de-stocking. The government will be reluctant to tighten property and credit policies nationwide but may step up targeted tightening, pressuring some local governments to reintroduce home purchase restrictions and increase land supply.
In 2017, property sales will likely weaken to low single digit growth due to some home purchases having been brought forward and incremental policy tightening to have some effect.