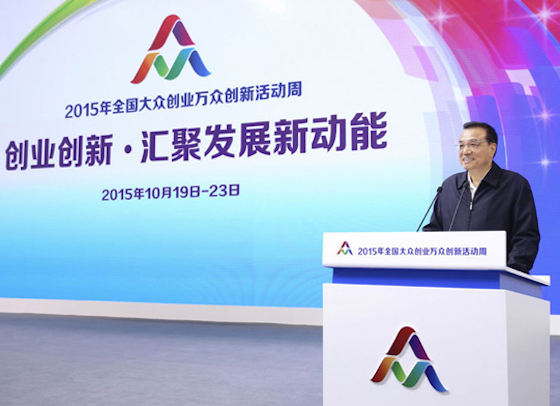 Two years after China started pushing for a nationwide policy of "Mass Entrepreneurship and Innovation", the country has witnessed a jump in the number of new start-ups. But the government-driven campaign risks the danger of turning into a political movement potentially causing massive waste of capital and resources.
Chinese Premier Li Keqiang initially raised the concept of "Mass Entrepreneurship and Innovation", or "Shuangchuang" in Chinese, during the Summer Davos in 2014, calling for everyone in China – from scientists to farmers – to become entrepreneurs and strive for innovation.
The idea is not new, as the Chinese government has focused on technology and innovation for decades. But the slogan took on the life of its own, with governments releasing new policies citing Shuangchuang around the country.
As a result, the daily average number of newly registered enterprises in China increased to 15,000 in August 2016, up from 10,000 two years ago. Revenues and profit generated by emerging new industries in China grew 11.6% and 18.9% during the first half this year, 3.5 percentage points faster than a year ago, according to a Chinese government website.
The ratio of Chinese spending on research and development to global total jumped to 14.4% in 2014 from 1.7% in 2000, while the number of technology researchers accounted for 26% of global total, China's Ministry of Science and Technology reported.
The movement has helped in creating a substantial amount of new jobs. At the end of 2015, there were over 120,000 entrepreneurial teams in China, providing over 510,000 new jobs.
In addition, Tencent Holdings Ltd. claims to have provided four million individuals with new job opportunities, while Alibaba Group Holding Ltd. says it supports ten million e-commerce shops and has created five million delivery jobs.
The central government has issued at least 24 policies and documents since May 2013 to encourage innovation and entrepreneurship, including providing subsidies, talent retention, simplifying business registration, granting tax benefits, and giving loan and credit support.
Following the central government's steps, hundreds of provinces and cities implemented their own version of subsidies and tax benefits. The city of Shanghai has controversially proposed to prop-up their entrepreneurial system by compensating angel investors for their investment losses.
The most worrisome trend, however, is the potentially massive waste of social resources as local entities rush to fulfill what some deem as political assignments.
Taiyuan, the capital of Shanxi province, has established over 30 high tech parks to incubate innovative start-ups. In smaller Luoyang city in Henan province, there are 20 such incubation parks. In Xinjiang county in Shanxi province, an area with 593 square kilometers and 340,000 people, five incubation parks have been built and five more are planned.
Some incubation parks are left vacant, while others are filled by businesses having little to do with innovation or technology. In an innovation incubation center in Luoyang city, only a handful of rooms are occupied by a home decoration business, a wood furniture maker, and a photography studio.
Occasionally, an incubation center is born by simply renaming the property. A food and commodities market in Shanxi province magically became an innovation center by changing its name.
As a result, sellers in the market with college degrees enjoy government subsidies including waivers on rental costs. The local government is providing RMB2 million in subsidies to the retail market-turned-innovation center every year, according to Chinese media reports.
This type of speculative behavior has accompanied China's economic growth every step of the way in the past three decades. It is accepted as a necessary and unavoidable by-product of growth. But to be truly innovative, Premier Li Keqiang and his advisors should find a way to minimize waste.