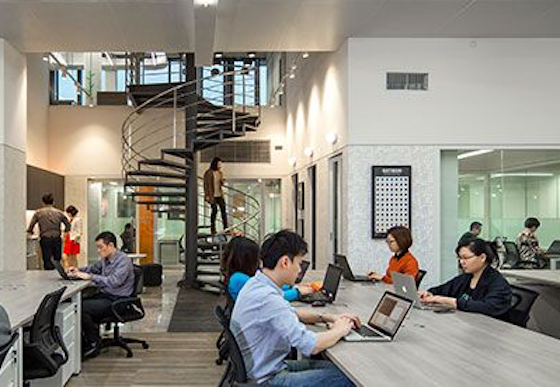 In a short span of 13 months, over US$300 million in venture funding has been raised to support co-working space projects in China, as over half a dozen start-ups are vying to cater to growing demand for more flexible and collaborative work environment.
More than 500 co-working space sites were set up in Beijing and Shanghai alone, while the phenomenon was almost non-existent one and half year ago.
The key driving forces behind co-working space's rapid growth in China include government encouragement of mass entrepreneurship, China's shift towards a sharing economy, and more young millennials joining the workforce, says a report by JLL China.
Compared to traditional serviced offices, co-working space provides even greater flexibility in lease terms. It also offers an open environment allowing companies and people to mix and potentially cooperate.
"The advantages that co-working offers fit well with a strategic push by many companies to increase flexibility, improve talent retention and recruiting, and build a sense of community," observes Joe Zhou, head of research for JLL in China.
The biggest co-working space start-up in China is a company named UrWork, which has raised around US$71 million from investors including property developer Yintai Land, Zhongrong International Trust Co., and Gopher Asset Management.
Smaller rivals including Fountown, 5Lmeet and Nash Work have also raised significant venture funding from CDH Investments, Yung Park and others. A Chinese media company 36Kr also spun off its co-working space KrSpace division earlier this year to seek independent financing for the unit.
Chinese property developer Sohu China launched its own co-working space called Soho 3Q in 2015, and currently operates 16 centers with over 10,000 seats in Beijing and Shanghai.
U.S. co-working space pioneer WeWork, which received venture backing from China's Hony Capital and parent company Legend Holdings, officially entered China in 2016. It has secured locations in Shanghai and Hong Kong, with plans to rapidly expand its network.
The Chinese co-working space sector appears certain to get busier and more crowded next year. It's reasonable to expect more venture deals with greater dollar value as well.
But it's equally assured that the number of companies will eventually dwindle aided perhaps by merger deals and perhaps collapses of start-ups due to oversupply and slower-than-expected demand.