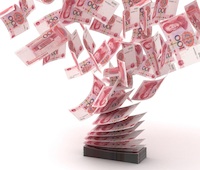 During the last two years until September 2016, seven new countries are now using the RMB for more than 10% of their direct payments by value with China and Hong Kong, bringing the total to 57 countries worldwide, according to the Society for Worldwide Interbank Financial Telecommunication (SWIFT).
The 10% milestone, also known as "crossing the RMB river", is a threshold set by SWIFT to measure the adoption of RMB payments by value with China and Hong Kong compared to other currencies.
The seven new countries are mostly smaller trade partners with China including Bolivia, Colombia, Mozambique, Namibia, Kuwait and Georgia, with the exception of Spain.
The continued increase in RMB usage for direct payments with China and Hong Kong mostly come from early adopters and main RMB clearing centers, such as Singapore, United Kingdom and South Korea.
Two of the largest economies in the world and important trade partners with China – United States and Japan – still show low RMB adoption. But the appointment of the first RMB clearing center in the U.S. should positively impact the country's RMB usage.
"The inclusion of the renminbi in the International Monetary Fund's Special Drawing Right basket earlier this month confirms its emergence as a global currency, which will be another catalyst for its growing use in trade and investment with China," Vina Cheung, Global Head of RMB Internationalization at HSBC, said in a statement.
Overall, the RMB kept its position as the fifth most active currency for global payments by value, with an increased share of 2.03% from 1.86% last month.
In September 2016, the value of RMB global payments value increased by 10.02% compared to August 2016, which is higher than the average growth of 0.93% for all currencies.