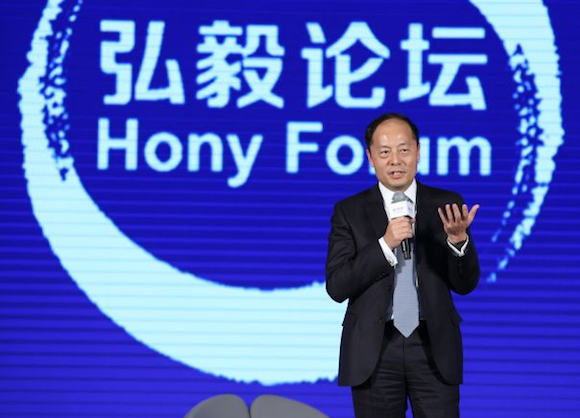 Hony Capital is now the second biggest private equity firm in China and the 41st largest globally, after it invested over US$1 billion in the past two years, Hony's chairman and CEO John Zhao boasted during the company's annual forum.
The private equity arm of Legend Holdings Corporation has reached a record in both fundraising and investment this year, Zhao pointed out, as its total assets-under-management reached around US$10 billion and it closed a US$2.7 billion eighth fund in April.
During a one-hour speech at the Hony Forum meant to reflect on the past year and draw a road map for the year to come, Zhao pictured a future where Chinese companies – hopefully with Hony's backing – are among global leaders across numerous industries.
Hony's investment strategy, which remains little changed for years, centers around innovation, cross-border and state-owned enterprise reform, with an objective to create China's own Fortune 500 that competes globally with those from the U.S. and Europe.
The founder of Hony Capital summed up the strategy in three Chinese characters: New (innovation), Middle (China-focused cross-boarder deals), Country (SOE reform) that conveniently forms the word "New China."
"China will unavoidably become more important in a new world order, while Chinese companies will play a critical role in that," Zhao said. "Helping to create China-centric international companies will be the objective for Hony in the next five, ten and twenty years."
WeWork, New York-based co-working space giant, is an illustration of that strategy. Hony Capital and parent company Legend Holdings led a US$430 million new financing round in WeWork in March, with an eye to help it expand in China and turn it into a global leader in the work style of the future.
Hony also plans to push for synergies between WeWork and Shanghai Jinjiang International Hotels Development Co., a hotel operator Hony invested starting in 2014.
Jinjiang's vast property network across the country could help WeWork expand quickly. At the same time, Jinjiang is buying up smaller hotel firms around the world to become the biggest hotel group globally.
The private equity group is also helping Zhejiang province-based Jushi Group, a Chinese fiberglass manufacturer, to become a global leader via technological innovation.
The company is currently constructing a factory in the U.S. and plans to expand its research and development capabilities there, with an eye to consolidate the industry around the world.
British restaurant brand PizzaExpress, which Hony acquired for US$1.2 billion in 2014, follows the same logic. Zhao plans to turn a 500-restaurant chain into a global leisure dining and food giant, starting with opening several hundred restaurants in China.
The optimistic Zhao dispelled concerns over China's slowing economy and the private equity industry's overall sluggishness, saying that a down cycle makes the strong stronger.
He shared little about Hony's investment returns, except to say that it was in the top quartile globally in terms of overall investment multiples.
In private equity, being an optimist is a prerequisite, and so are unambiguous return numbers. Hony's grand vision needs to be matched with a stellar scorecard, something let's hope that Zhao can proudly share in Hony's future forums.