The liquidity squeeze that hit the offshore RMB market in Hong Kong in the first week of 2017  stemmed from the Chinese central bank activity targeted at hurting speculators shorting the offshore RMB. The intervention was similar to a liquidity squeeze that hit the market almost exactly one year ago.
The recent intervention once again eased short-term depreciating pressure on the RMB, but the longer-term impact will likely hinge on the U.S. dollar's movements. China, meanwhile, will continue to engineer a moderate depreciation of the Yuan this year, according to a research report from Mizuho Securities Asia Ltd.
In the first week of 2017, overnight offshore RMB Hong Kong Inter-bank Offered Rate (HIBOR) soared to 61.3% on January 6. Subsequently, offshore RMB gained almost 3% against the U.S. dollar in less than one week.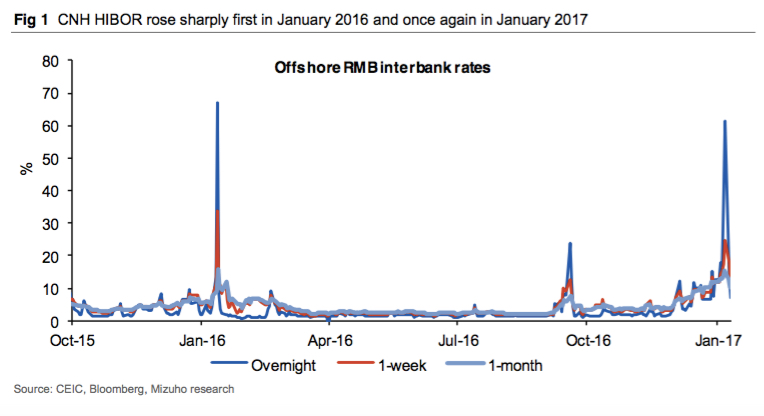 The intervention is identical to the previous market squeeze that emerged almost a year prior, similarly directed by the People's Bank of China through state-affiliated agents in Hong Kong. The objective was to increase the cost of shorting the RMB, in a show of force to fend off speculators placing bets on the RMB's expected future depreciation.
The early 2016 intervention was effective. After overnight HIBOR jumped to 66.8% on January 12, the offshore RMB appreciated by around 2% in one week. It also marked the beginning of an almost 5% rally in the RMB that ran for two months, accompanied by a narrowing of the onshore and offshore RMB spread, as well as a modest rebound in China's foreign exchange reserves in the first half of 2016.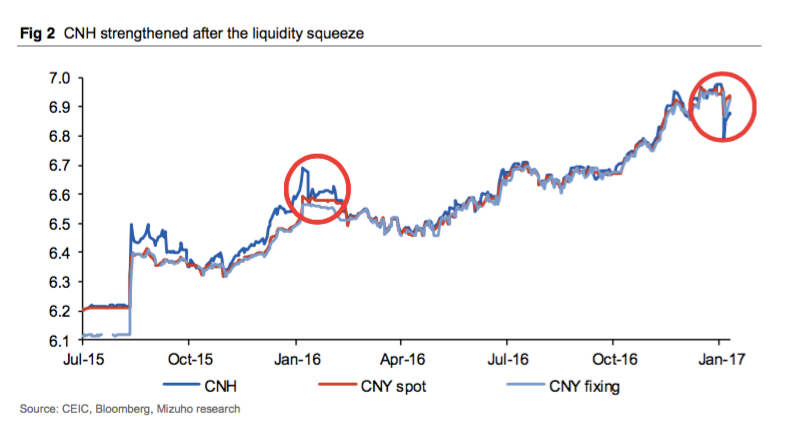 This suggests that such intervention can be successful, at least in the short run. Over the longer run, Mizuho says its success depends on the course of the U.S. dollar. If the strengthening of the U.S. dollar is not accelerating, adopting these measures could calm the market and eliminate a one-way bet.
As the People's Bank of China defends the RMB against potential massive depreciation and restores confidence in the currency, it is also finding that currency intervention could be done at a lower cost.
As of November 2016, the amount of outstanding RMB deposits in Hong Kong stood at RMB627.6 billion (US$90.6 billion), down 37.5% from a peak of RMB1 trillion (US$44 billion) in December 2014 and down 26.3% from January 2016. The decreasing depth in offshore RMB market gives the Chinese central bank more power in its maneuvering, says the report.
Going forward, China will continue to manage a moderate pace of RMB depreciation for the rest of the year. Mizuho expects the RMB to depreciate by 4% to 5% to CNY7.30/USD in 2016, compared to a 7% drop in value against the dollar in 2016, to around CNY7.30/USD by year-end.