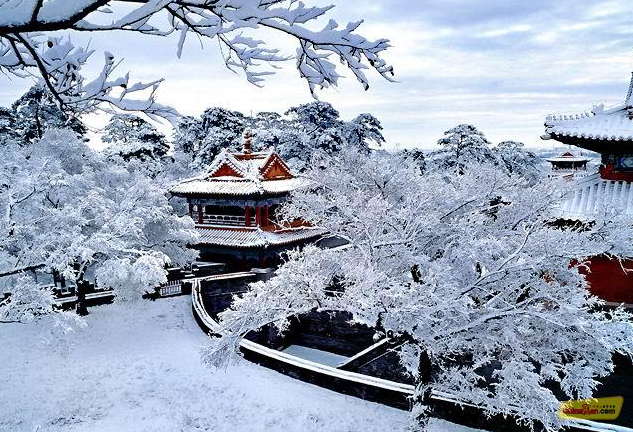 The Liaoning provincial government publicly acknowledged that it overstated its economic data for 2011 to 2014, highlighting the need for a revamp of statistical methods in China so that governments are no longer evaluated using economic growth benchmarks, says a research report by Mizuho Securities Asia Ltd.
The Liaoning episode may not be an isolated incident. China's national GDP has consistently been around 6% smaller than the sum of all provincial GDP in 2011 to 2015. The "discrepancy" expanded from 4.8% of GDP in 2006 to 2010. While it could partly be due to inter-provincial trade, exaggerated reporting of economic growth may also be happening.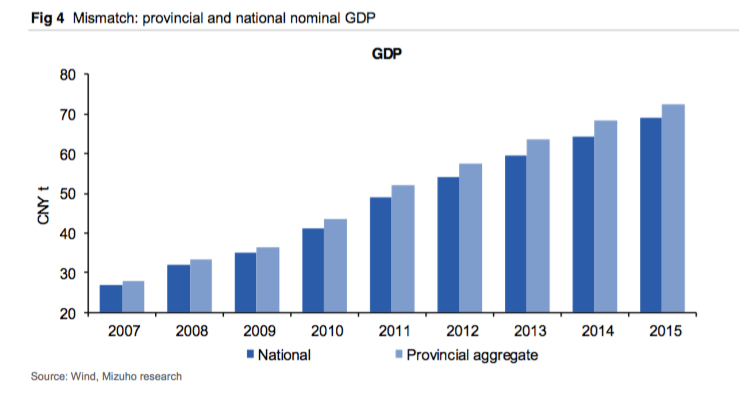 Data falsification may reflect questionable standards in the gathering of official statistics. The system did not identify the problem in Liaoning's data when suspicions first came to light. After the problem was finally identified, the authorities did not release revised historical data. This led to further distortions as evident from the artificially depressed growth rate in 2016. Over time, questionable practices may erode the credibility of China's official statistics.
The Northeastern province's governor Chen Qiufa confirmed earlier this week that the official statistics of the province were unreliable in 2011 to 2014, citing the National Audit Office. He noted that the economic data were exaggerated in many cities and counties, on a range of economic indicators including GDP, fiscal revenue, value-added of industry (VAI) and fixed asset investment (FAI). Of those, fiscal revenue was said to be overstated by as much as 20% on average in the three-year period.
Governor Chen said that data quality has improved since 2015 after the problem was identified. This in turn prompted a significant decline for leading indicators in 2016. Following the adjustment, Chen thinks that Liaoning's economic data will become more realistic. His comments were made after some former senior officials in the province were arrested.
Liaoning's economic data appeared unreasonable as its FAI dropped 27.8% year-on-year in 2015, while maintaining a 3.0% year-on-year GDP growth. This performance would call for an unusually large jump in either consumption or net exports to offset the impact, which were not the case.
Fiscal revenue declined by as much as 33.4% year-on-year in 2015, compared with 7.6% and 4.5% in 2013 and 2014 respectively, and double-digit growth before that. While economic conditions in the Northeastern provinces have been a source of concern in recent years, the scale of the decline cannot be fully justified, Mizuho said.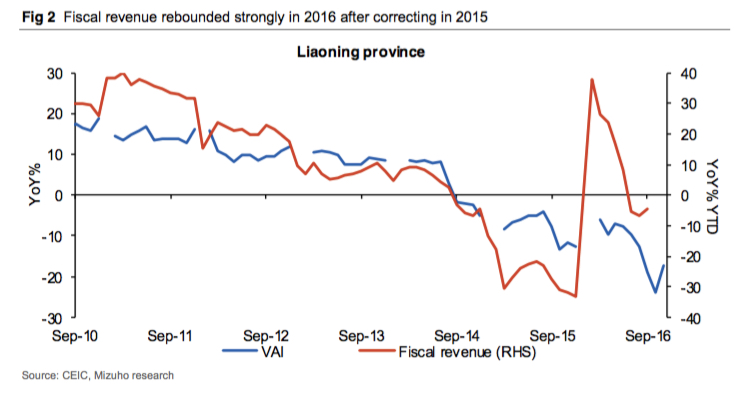 Liaoning's depressed FAI in 2016 significantly distorted national level data. In November 2016, China's FAI expanded by 8.3% year-on-year, much lower than 10.2% recorded in November 2015. Stripping out Liaoning's contribution, the national FAI would be 10.9%, much closer to November 2015.
Mizuho said that data distortion harmed the judgement of policymakers in 2016, when the government unleashed a hefty monetary and fiscal stimulus to shore up investment. Policymakers may also have persisted with monetary easing for longer than was necessary, thereby stoking asset bubbles in the second half of 2016.
To reduce the potential incentive to twist data, the government may need to revise the official evaluation criteria for government staff to no longer be centered around economic growth, says the report.