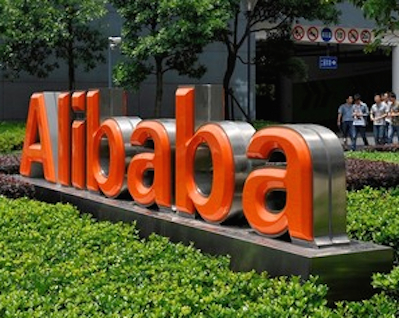 Alibaba Group Holding's results for the quarter ended December 31, 2016 show that the Chinese online commerce giant continues to grow at an impressive rate, with total revenue of RMB53.2 billion (US$7.7 billion), an increase of 54% year-over-year. Revenue from its core e-commerce business, however, increased at a more moderate 42% year-over-year, while the company's strongest revenue growth came from non-core businesses such as cloud computing and media and entertainment.
The results indicate that NYSE-listed Alibaba may be facing a problem that was once considered impossible: a lack of new Chinese customers for its core e-commerce businesses. Active annual buyers stood at 443 million in December, up 8.8% year-on-year, and up only four million users from the prior quarter, or less than 1%.
Those buyers may be spending more money per purchase, thus supporting the increased revenue for the core segment. But for a company whose historic growth rate has been measures in new users, it's a significant softening.
Mobile users made a far stronger showing. Mobile monthly active users surged by 100 million, or roughly 25% over the same quarter a year earlier, and up almost 10% from the prior quarter. In fact, monthly mobile users surpassed active annual buyer by 50 million.
The number is important for Alibaba's future as these mobile users are as interested in movies, games, data storage and online banking as they are in buying or selling tennis shoes. And that is where Alibaba appears to be placing its bets going forward.
It its earnings announcement, Maggie Wu, chief financial officer of Alibaba Group stated: "This quarter we generated US$4.9 billion in free cash flow on a non-GAAP basis, enabling us to continue investing in growth areas globally, including cloud computing, digital media and entertainment and innovation initiatives, as well as core commerce."
It's a case of putting money where the growth is. Revenue from digital media and entertainment increased 273% year-over-year to RMB4.06 billion (US$585 million). Alibaba's commitment to entertainment was shown earlier in 2016 with the establishment of a U.S. headquarters in the Los Angeles suburb of Pasadena, to engage in co-financing work by large U.S. studios and producers to market and distribute content in China.
Speaking to the press at that time, Wei Zhang, president of Alibaba Pictures, said: "This Pasadena office will be sort of the entertainment hub for Alibaba."
Revenue from cloud computing increased 115% year-over-year to RMB1.76 billion (US$254 million). Cloud computing customers increased 100% from a year earlier to over 760,000. Unlike e-commerce, Alibaba's cloud computing business has the advantage of not being limited by consumer tastes, shipping costs or trade barriers.
During the last quarter of 2016, Alibaba said it "launched" new data centers in Japan, Germany, the Middle East and Australia, offering customers worldwide services including elastic computing, data storage and cloud security services.
That's not to say Alibaba is turning its back on its core e-commerce business. It's simply doing so outside of China;though staying close to home. In April 2016, Alibaba acquired Singapore-based e-commerce company Lazada Group for US$1 billion to expand its footprint across Southeast Asia.
Yet such new ventures come at a cost. The Lazada deal, Alibaba's biggest overseas investment to date, was cited by the company as one reason that expenses as a percent of revenue in the quarter rose to 36%, up from 32% a year earlier.
Alibaba's Key Operational Metrics