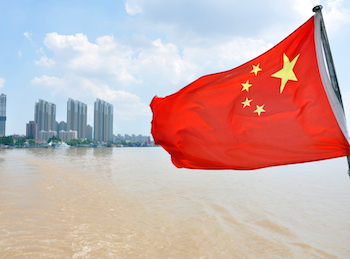 Chinese direct investment in the advanced economies of North America and Europe more than doubled to a record high US$94.2 billion in 2016, as China continued its transition to a more global growth model, says a report by law firm Baker McKenzie. But, a slew of cancelled deals and a significant slowdown in deal-making in late 2016 indicate a mixed outlook for 2017 and beyond.
For the first time since 2013, Chinese investors poured more money into North America then Europe, spending US$48 billion in North America versus US$46 billion in Europe, up 189% and 90% increase year-on-year, respectively. This was against a backdrop of global Chinese outbound investment hitting a new high in 2016 of almost US$200 billion.
Privately owned Chinese companies led the trend, outpacing investment by state-owned enterprises to close deals accounting for 70% of the total, signaling the continued rise of corporate China in the global economy.
"Well over half of all Chinese direct investment into Europe and North America since 2000 has taken place in the last three years, marking the continued influence of globalization and the rapid development of China's economy," said Michael DeFranco, global head of M&A at Baker McKenzie.
Acquisitions drove activity, accounting for 97% of China's foreign direct investment value. Total deal value includes completed acquisition transactions that resulted in an equity stake of 10% or more, as well as greenfield investments.
Whilst 2017 is likely to be another strong year, as previously announced deals reach financial closure, the outlook for China's direct investment overseas is mixed. Despite the record total, 2016 also saw 30 cancelled deals worth an unprecedented US$74 billion. Two thirds of those cancelled deals were in Europe. Also, the number of newly announced Chinese acquisitions in Europe and North America has dipped since an exceptional first half of 2016, according to the report.
"The deal pipeline is strong in both Europe and North America, but political and regulatory uncertainties are weighing on the outlook. A short term slowdown in new deals is likely in 2017, driven both by China's temporary measures to slow capital outflows and tougher screening of inbound deals in the US and Europe," DeFranco added.
In Europe, Chinese investors focused on Germany and the U.K., which between them saw 46% of all investment in Europe. The U.S. accounted for most of the increase in North America, with Chinese investments rising by almost 200% from 2015 to 2016 to US$45.6 billion. Deals into Canada also rose 120% in value to reach a three-year high. Larger average deal size drove overall value up, while deal volumes remained stable.
California was the largest recipient of Chinese capital, with more than US$16 billion of deals in 2016, reflecting interest in key sectors such as information technology, entertainment, real estate and logistics. New York was also a major recipient, though real estate investments accounted for 90% of value.
Several U.S. states saw major investments from China for the first time in 2016, primarily following very large individual transactions with companies headquartered in those states. These include Kentucky with more than US$9 billion. Investment in Illinois, Minnesota and Georgia also rose.
In terms of industry, information and communications technology, transportation, utilities, infrastructure and industrial machinery saw the most activity in Europe.
In North America, Chinese investment is spread more evenly across different industries. The main recipients in 2016 were real estate and hospitality wit US$17.4 billion, transport, utilities and infrastructure with US$6 billion, consumer products and services with US$5.7 billion, and entertainment with US$4.8 billion.