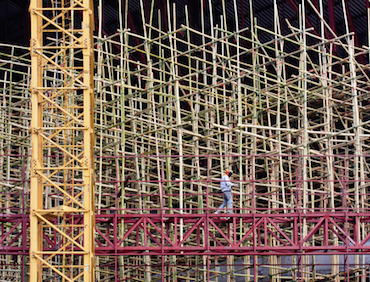 China's recent economic performance confirms its emphasis on stability over over economic reform, as the global political and macroeconomic outlook remain uncertain, Deutsche Bank Wealth Management said today.
Growth in 2016 was fueled by lending growth and loose policy measures, and China's GDP growth accelerated to 6.8% year-on-year in the fourth quarter after three quarters of 6.7% growth. The report noted that as China's economy evolves, consumption is taking on a bigger role from investment and there is stronger reliance on the services sector over manufacturing.
"We anticipate that China will set its GDP growth target at around 6.5% in 2017. The continued lowering of the target may suggest that the Chinese government wants the economy to grow at a pace its demographics and development can afford," said Christian Nolting, global chief investment officer at Deutsche Bank Wealth Management.
"Despite resilient growth in 2016, we believe that China will see a gradual slowdown as the economy matures, restructures, and as China manages its macro risks. Chinese equities should outperform compared to a volatile, sideways moving emerging markets equities market," Nolting added.
Deutsche Bank also forecasts the Chinese Yuan to weaken to 7.3 against the U.S. dollar by December 2017, driven by capital outflows.
The growth achieved in 2016 was partially supported by loan growth. New loans reached RMB1.04 trillion in December, bringing the monthly average of new loans to RMB1.05 trillion in 2016, up 8% from the prior year. Broad money supply growth remained at double-digit levels compared to a year ago.
The economy also continues to evolve from being investment-led to consumption-led, with consumption contributing 64.6% of GDP growth in 2016, according to The National Bureau of Statistics.
The services sector accounted for 51.6% of the economy last year and retail sales growth momentum also improved in recent months, increasing 10.9 year-on-year in December. Property sales have moderated in recent months to 34.8% year-to-date in December, from a high of 41.3% year-to-date in September.
Although China's economy has grown at a solid pace, concerns about its sustainability persist. Looking forward, growth is likely to face challenges from three key issues.
Firstly, loan growth remains high, at about twice of GDP growth, which means that debt levels continue to rise.
Secondly, China must manage capital outflows and a weakening currency in an environment of U.S. dollar strength. As the Chinese capital market is partially managed, the currency weakness has already seen the foreign exchange reserves dip to just above US$3 trillion, from US$3.8 trillion at the end of 2014. If the central bank decreases its level of intervention, it may likely lead to an even weaker currency.
Thirdly, China's housing market presents a medium-term issue. Mortgage loans accounted for a large proportion of total new RMB loans in the third quarter of last year. The government has recently introduced some policy measures to reduce the downside risks, and while these may buoy short-term growth, the effects could start to wear off by mid-2017.
A key event to watch this year is China's 19th Party Congress in the third quarter as several members of the Politburo Standing Committee are likely to retire.
"We believe that the event will likely set the tone on China's future policy direction for the next five years, until the next National Congress. With President Xi Jinping now the 'core leader' of the party, we will also watch for the plans he will set aside for China for 2017-22," Nolting said.