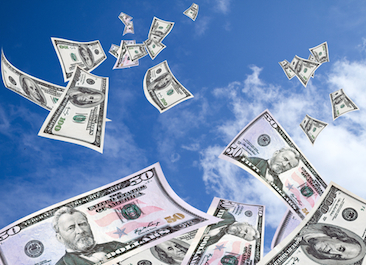 China's foreign exchange reserves fell to US$2.998 trillion in January, breaking the psychological US$3 trillion market and reaching the lowest level since February 2011. The fact triggers renewed concern about the pace of the country's capital outflows, but it is merely a reflection of the Chinese central bank's priority to stabilize the RMB, Mizuho Securities Asia Ltd. said in a research report.
In January, the Chinese currency strengthened by 0.88% to CNY6.8840/USD from CNY6.9450/USD at the end of 2016. This seems to show that the People's Bank of China had clearly chosen to keep the RMB's exchange rate above CNY7/USD, while sacrificing the critical US$3 trillion foreign exchange reserve benchmark, the bank said.
What is often overlooked is that the pace of the drop in China's reserves has been slowing to US$12.3 billion in January, down from US$41.1 billion in December 2016 and US$69.1 billion in November 2016. This implies that the Chinese central bank's capital control measures and offshore market intervention launched in January are having its desired effect.
The People's Bank of China measures include new vetting requirements for Chinese citizen's annual exchange limit of US$50,000, encouraging state-owned enterprises to sell foreign currency and buy RMB, and a reported requirement for banks to stop processing cross-border RMB payments until they balance inflows and outflows.
The Pace Of Chinese Reserves' Decline Has Been Slowing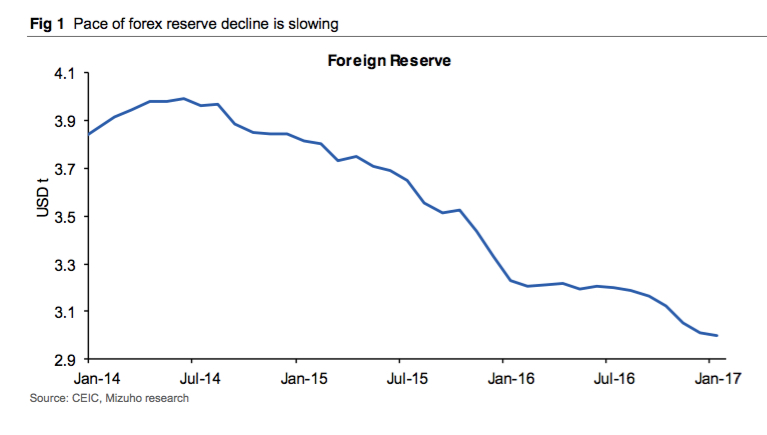 Despite some success, the central bank in China still faces intense capital outflow pressures going forward, especially given the uncertainty relating to the U.S.' push to encourage its companies to repatriate overseas capital.
Therefore, the People's Bank of China may tighten capital control measures further in the remainder of the year, so that the decline in foreign exchange reserves will moderate in the coming months with the RMB fluctuating around CNY6.8/USD to CNY7/USD, Mizuho forecasts.