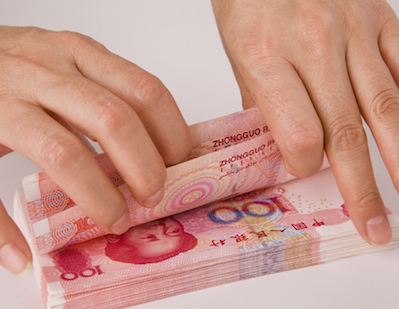 Despite concern and debate about monetary tightening in recent weeks, new credit data show that monetary tightening in China has been working very much at the margin, and there is little need for a benchmark rate hike in 2017, according to a research report issued by UBS AG.
Earlier in the month, the People's Bank of China repriced the cost of short-term funding by raising the 7-day reverse repo rate by 10 basis points to 2.35%, leading the market to speculate that the Chinese central bank might be leaning toward a monetary tightening stance this year.
But new credit data in January came in much higher than expected. The broader measure of total social financing increased by a much stronger than expected RMB3.74 trillion, despite RMB loans rising by a less-than-expected RMB2.03 trillion.
UBS estimates that monthly credit impulse, which is the change in the rate of net new lending, picked up more visibly in January from 29% to 41% of GDP, and it held largely stable on a three-month moving average basis. The new data suggests that despite concerns and debates about monetary tightening in recent weeks, Chinese credit growth remains quite strong and that monetary tightening has been working only at the margin.
Outside of bank loans, corporate bonds shrank by RMB54 billion, RMB562 billion less than January last year, reflecting the recent volatility and higher costs in China's bond market. UBS expects bond yields and money market rates to stay elevated this year, with increased risk of them moving higher.
China's inflation numbers came in stronger than expected as well. The Producer Price index (PPI) surprised to the upside in January, jumping to 6.9% year-on-year from 5.5 previously, mostly on commodity and raw material price hikes. China's Consumer Price Index (CPI) picked up to 2.5% year-on-year from 2.1% previously, led by faster price growth of food, fuel and services.
Inflation numbers are going strong because of better-than-expected construction activity and stronger domestic demand. A slower-than-expected production response to the reversal of last year's production cuts and the government's firmer commitment to supply-side reforms also bolstered market expectations for higher commodity prices.
UBS forecasts that the CPI numbers will remains unchanged at 2.3%, as its expects transmission of the recent surge in PPI to CPI inflation to stay limited. This is another reason that the Chinese central bank does not need to tighten monetary policy, it said.