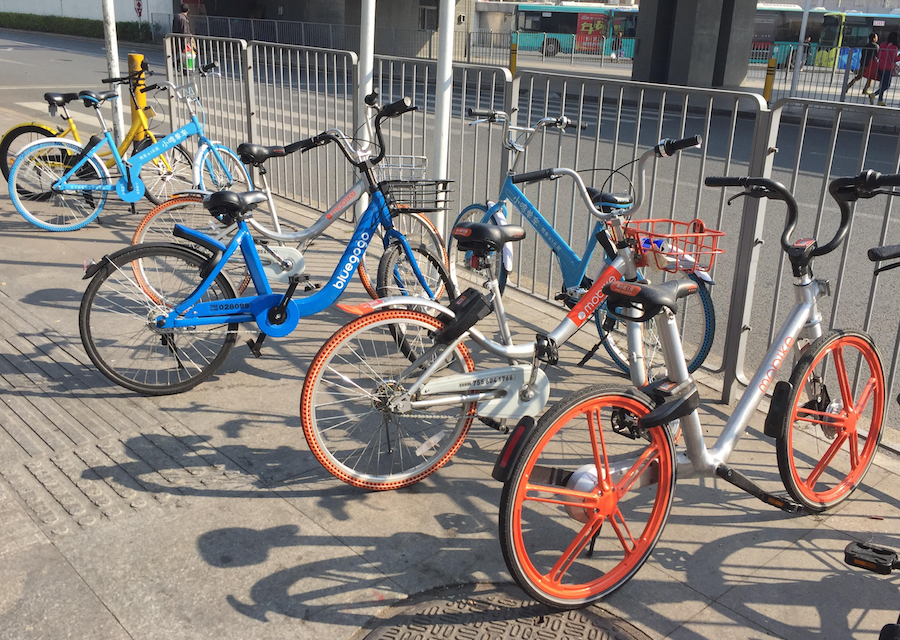 The following news release left me bewildered. Why can't businesses in China stop ruining a creative idea? Why must they copy to death and spoil something so innovative?!
Yet another bicycle sharing company has been born to launch dockless bikes in Zhuhai and Beijing. The company, named getb, claims to be the "world's first versatile, intelligent, dockless shared bike brand," which is untrue or at best is an "alternative fact."
At least a dozen companies in China have copied the same technology and business model, which was perhaps first popularized by Chinese industry pioneer Mobike.
Nearly half a billion U.S. dollars have been invested into Chinese bike sharing companies, with most of the money injected in two market leaders, Shanghai-based Mobike and Beijing-based ofo. A number of others including Hellobike, Qibei Tech, Ubike and Yiming Bike have also raised venture funding.
These companies distribute new bikes into city streets, instead of letting users "share" their own bikes, adding new supply of bikes to the market. Strictly speaking, they should be bike rental companies and not bike sharing firms.
In addition, a large population already own bikes in China, and a great proportion of roads in major Chinese cities do not allow bicycles, further limiting the accessibility of peddle-powered transportation.
Try peddling from one side of Shanghai's Puxi area to the other through main arteries, and you will know it's impossible. At best, these bikes utilizing mobile apps, GPS and mobile payment technology will only provide an alternative option for urban short-distance commutes.
The numerous bike companies created during the past year perhaps supply or over-supply the demand for such services already. On any random street in Beijing, Shanghai and Shenzhen, rows of colorfully painted new bikes from these "shared economy" startups can be seen parked together for hours without being used.
For a newly created market, user education and habit formation are critical in the sector's future growth. The existence of far too many seemingly identical products can confuse consumers. These are commodities with no differentiation. With companies focused on competing for market share, they may forget the more important goals: to innovate and to make people's lives better.
Below is the press release for your enjoyment:
ZHUHAI, China, Feb. 21, 2017 — Sunny skies and a pleasant warmth are the hallmark of a typical February day in Zhuhai, a medium-sized city in southern China. Most of the city's denizens are sporting a light layer of clothing, while their counterparts "up North" remain bundled up against winter's lingering chill. It was on just such warm day that a batch of red bicycles appeared on streets across the city. The bikes appeared without the usual fanfare when a news scheme is rolled out: no leaflets handed out at street corners, announcements on the city's many billboards or widespread promotional campaign of any kind. The bicycles' sole identifying marker were the letters "getb" neatly etched in white over the red exterior.

Recently, getb held a press conference in Zhuhai, announcing that Zhuhai and Beijing will be among the first cities selected for a beta test of the shared bike scheme. At the event, getb CEO Zhou Min announced that Zhuhai CTC Electronic had been formally selected as the strategic partner of the scheme responsible for implementation, management and supply chain support at the local level. Zhou said getb has been positioned as the world's first versatile, intelligent, dockless shared bike brand, created by a Sino-British entrepreneurial team located in Beijing and London. The China headquarters of the brand is located in Beijing, responsible for operations in the greater China region.

In its offices in Beijing and London, getb spent nearly one and a half years in developing the shared bike scheme. In Zhuhai, more than 200 bikes were launched in a trial operation, and were used more than 3,000 times. The app needed for booking the bikes has been used more than 10,000 times. getb plans to add 5,000 more bikes to the fleet during the next stage of the roll out. "With the strong solution and supply chain support from Zhuhai CTC Electronic, the getb shared bike scheme will be rolled out simultaneously in Beijing, London and Zhuhai," Zhou added by way of explanation. "The plan is for the brand to expand at a rate of entering a new city every 30 days, and to be installed in 12 cities by the end of this year. On March 15, the scheme will be launched in Shenzhen."

At the press conference, Zhou gave a presentation of the unique features of getb bikes, features that he expects will allow getb to overtake the competition in the future:

– A superior riding experience. The getb bike weighs 18kg, 5kg lighter than the Mobike. The tyre, which consists of a rubber outer tyre and a PU inner tyre, helps enhance the feeling of weightlessness and reduce any sensation of bumpiness from potholes and uneven pavement. In addition, both the frame and wheel hub utilize high-strength, lightweight aluminium alloy materials. Notably, with the aim of improving the quality of the ride, the bike comes equipped with a height-adjustable seat for riders of different heights, while the hollow silica gel saddle, designed to be highly breathable, keeps the rider's posterior cool and sweat-free.
– Enhanced safety performance. The getb combines the drum brake with a roller brake, delivering a fast braking response coupled with a low failure rate, vastly enhancing overall performance and safety when needing to come to a quick or sudden stop. During the event, Zhou shared the results of the stopping distance test for shared bikes available in the market: Mobike — 3.8 meters, Bluegogo — 1.8 meters, and ofo — 3.2 meters.
– Fast unlocking. By leveraging Zhuhai CTC Electronic's central control technology and more advanced algorithm, the getb allows for rapid unlocking, within three seconds in most cases.

The relatively affordable pricing of the getb service is GBP 1 (approx. US$1.24) per hour with a required deposit of GBP 99 (approx. US$123.03) .

Zhou further commented, "Many Chinese opt for bicycles, not only as a preferred method for getting from point A to point B, but also to do their bit for the environment as well as to keep in shape. We hope the new model can serve as a Last Mile solution."

getb's UK team, Getbike Sharing System Ltd., had earlier announced the launch of a beta test across the Greater London region, scheduled from February 25 to April 25, with 3,000 bikes on offer initially and increasing to 50,000 during the subsequent five months. In January, without providing further details concerning the investors, the team announced an injection of US$10 million in A-round financing. The valuation of the company is now estimated at US$200 million.