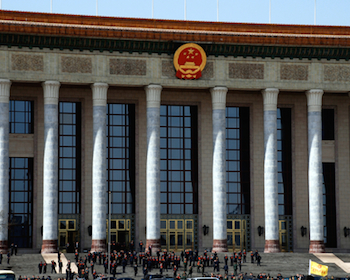 China's National People's Congress meeting will be held starting next weekend on March 5, with Chinese Premier Li Keqiang expected to reinforce the message for "deepening supply-side structural reforms" in 2017, said ANZ AG at a research report.
Namely, China will continue on the five initiatives of deleveraging, capacity reduction, inventory reduction, cost reduction and mending the weaknesses of the economy.
The government will likely embrace a risk management attitude across many policy aspects in 2017, especially with the commencement of the 19th National Congress of the Communist Party in the autumn.
With this in mind, the importance of official targets on growth and inflation will be potentially lower, said ANZ. In fact, even policymakers have realized by now that the Chinese economy needs to address several structural issues that are crucial to long-term sustainability, instead of focusing on maximizing the GDP figure.
At the same time, Beijing has attempted to prevent a financial bubble. Strong credit growth will continue to be discouraged. Therefore, a key thing to watch is the government stance on money supply, or the broad measurement of money supply M2, and credit growth as measured by what is called total social financing in China.
ANZ forecasts that China is likely to lower the M2 and total social financing targets to 11% to 12% from last year's 13%. This will indicate the government's intention to taper this year. This scenario is likely as monetary policy has reached its limit in boosting real activities.
In 2016, one yuan of new credit generated just 20 cents of additional GDP nominally, almost one-fifth of the level a decade ago. At the same time, credit within the financial sector now represents 25% of banks' total assets, compared with 12% in 2007, promptings concerns about a financial bubble.
Another policy move possibility is that Chinese policymakers will replace a quantitative target with a general statement like "keeping credit growth at a reasonable range". This is the best approach as the People's Bank of China modernizes its operational framework from a quantitative-based to a price-based regime with the intention to establish a base curve, say ANZ.
But the bank warned that a single M2 or total social financing target can hardly represent the government's monetary policy stance. The Chinese economy has become more market-driven and its performance is relatively insensitive to global and domestic events, including its own policy actions. Adopting a target range can introduce some degree of flexibility, allowing policymakers to adjust their actions accordingly.