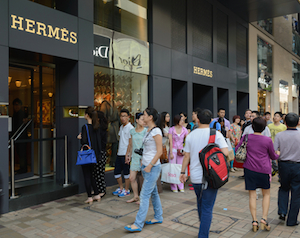 China's announcement of a 10-basis point rate hike will help stabilize the RMB in the wake of the U.S. Federal Reserve's overnight rate hike and also help address the property market bubble, says Mizuho Securities Asia Ltd. in a research report released today.
The suspension and slowdown of mortgage loan approvals in Beijing suggest that the People's Bank of China is accelerating its monetary tightening, and Mizuho expects that China will adopt price-centric and quantity-centric tools to curb credit growth going forward.
After the U.S. Fed's announcement, the Chinese central bank announced a 10 basis point hike in the 7-day, 14-day and 28-day repo operation and the 6-month and 1-year mid-term lending facilities (MLF).
This dovetails the view that the monetary tightening cycle in China has started. The tightening will be conducted using a new monetary policy framework, consisting of the interest rate corridor and mid-term lending guidance.
The U.S. dollar index fell after the Fed's rate hike announcement, further confirming the view that the dollar typically loses ground post a rate hike. As such, Mizuho expects the RMB to depreciate only moderately in 2017, given the PBoC's strong determination to keep the RMB stable.
According to the PBoC, the rebound in the economy since the fourth quarter 2016 and the decline in real interest rates due to higher inflation boosted credit demand. Property prices in various cities has increased rapidly. The PBoC suggested that the market has anticipated a higher interest rate, and its action is consistent with general expectations.
Chinese media reported that some banks have stopped granting mortgage loans in Beijing since February 2017. Other banks are taking more time when assessing mortgage requests. The Chinese central bank has reportedly used window guidance to instruct banks to control the growth of mortgage loans.
Going forward, the Chinese central bank may tighten monetary policy, and Mizuho anticipates two or three rate hikes under the new monetary policy framework in 2017.
With rising home prices and a rebound in inflationary pressure, policy tightening may accelerate soon. Both price-centric tools such as rate hikes and quantity-based tools including loan quota and Macro Prudency Assessment may be used to curb credit growth, according to the report.